Coatings as Thermal Barriers: Safety and Code Compliance
Coatings as Thermal Barriers: Safety and Code Compliance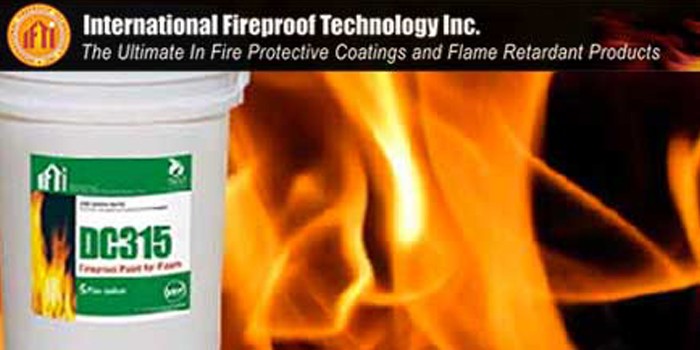 IRVINE, CA
– March 9, 2016 – Spray polyurethane foam (SPF) is combustible, producing thick smoke and flammable gases as it burns. These gases can also ignite, resulting in a flashover. Given this, the International Building Code (IBC) mandates that a 15-minute thermal barrier or "Alternate Approved Covering" be used to separate SPF from a building's occupied interior. There is an exception to this thermal barrier rule; however, in unoccupied crawlspaces and attics where the entry is solely for the purpose of servicing or maintaining utilities. In these cases, an ignition barrier alone is required. In both cases, the mandate is a matter of public safety.

The Testing Process

The testing process for alternative thermal barrier assemblies is dramatic. Both the SPF and the alternative thermal barrier – typically a coating – must be tested to National Fire Protection Association (NFPA) 286 or equivalent, as an entire system (BRAND / TYPE SPECIFIC SPF + Thermal Barrier = Assembly). The test must be performed in a full-scale room, configured with an ignition source in one corner. The test runs for 15 minutes. The heat out-put is held at 40kW for the first five minutes and then raised to 160 KW for the remaining 10 minutes. In order to pass the test, the complete assembly must be able to prevent flashover, slow the spread of fire, reduce the amount of smoke generated, and eliminate the heat that would be contributed if the foam were to burn.
And, although it is thorough, this full scale testing process is now no longer sufficient to satisfy code compliance.
In the testing procedure, Alternative Thermal Barriers have always been tested as assemblies, in a methodical manner in which A (SPF)+B (Alternative Thermal Barrier)=C (Assembly). Although A, the SPF, and C, the Assembly, are always defined, B, the coating, has not been held to a burden of proof of quality assurance or manufacturing consistency via third party listings or inspections. Not surprisingly, this has caused quality control – and more importantly – safety issues. After years of confusion, and finally, in a drastic case, consisting of an ultimatum to remove coatings as an approved Alternative Thermal Barrier, it became clear that reform was necessary. The coatings used as alternative thermal barriers had to be tested and held to the same high standards as the SPF. Further, they had to meet the same code compliance. It is a matter of life or death. But how to go about ensuring this?
A Slow Burn Toward Code Compliance

Championed by Gary Wolfe and IFTI, the push for code compliance began. "Foam companies have had to test and report on every batch of product for years, but the coatings companies were not held to the same standards," Wolfe says. "And in this industry, standards mean more than product components, this is about life safety."
In the event of a fire, these intumescent coatings are designed to char, providing a thermal barrier between the combustible SPF and the fire. As they char, the coatings provide building occupants with the ability to escape. When lives are on the line, quality control and standardization are more than buzz words – they are of utmost importance.
Concerned, Wolfe worked with the International Code Council-Evaluation Services (ICC-ES) to ensure that the testing criteria for intumescent coatings and the testing criteria for SPF match. Moreover, the products tested, must be the products used in the application. "There was such confusion around acceptance, some people thought that simply passing one product meant that the rest of the product line passed as well – even though those products were untested," Wolfe explains. "Again, in a burning building when seconds matter and lives are on the line, I don't want to trust my family to an untested coating. Who would?"
After a series of tests and hearings, explorations, and even exhaustive fire testing, ICC unanimously voted to implement AC456 and modify AC377, the code that establishes the requirements for spray-applied polyurethane foam plastic insulation. The new ICC-ES code, AC456, establishes a criteria for Coatings over SPF ensuring that the product tested is the same product that is used on the jobsite. Further, effective October 2017, all testing that has not been performed in accordance with AC85 Section 3.1 will be removed from ALL SPF evaluation reports.
RELATED
IFTI Reveals How Firestop Systems Can Compliment Spray Polyurethane Foam Businesses
,
ICC-ES ESR# 3702 Verifies that IFTI's DC315 Meets Code Requirements
,
IFTI's Certified Applicator Program Assists Spray Foam Contractors with Code Compliance
AC85 Section 3.1 reads: "Test specimens of products subject to third-party quality control inspections as a requirement of the code or ICC-ES acceptance criteria shall be sampled at the manufacturing site by the accredited testing laboratory or by an IAS-accredited inspection agency. The sampled product shall be truly representative of the standard manufactured product for which recognition is being sought. In lieu of sampling at the manufacturing site, sampling at a warehouse or distribution center is permitted, provided the testing laboratory or accredited inspection agency samples the materials and correlates the sampled materials with the product specifications."
According to the new code, any coating that was tested as an alternative thermal barrier, but NOT tested under the specified conditions, MUST BE retested in order to be certified to code. This is a significant development in terms of public safety and the acceptance of coatings as an alternative form of thermal barrier.
Other Provisions in the Code and Their SPF-Industry Benefits


In addition to legitimizing coatings as a verifiable, repeatable, and measurable alternative thermal barrier, the new Code has other benefits for the SPF industry.
* Manufacturers must maintain a third-party quality assurance and follow-up inspection program.
*The testing must be performed by an ISO/IEC 17025 accredited facility.
*The coating must include an evaluation report.
*The coating shipments must include inspection marks.
*Coating manufacturers can now list SPF manufacturers on their reports.
*The Code standardizes how fire protective coating application rates, as well as thickness measurements are to be reported.
The need for third-party-listed quality assurance will allow for a more streamlined acceptance and approval process. This provides independent documentation to the Authorities Having Jurisdiction (AHJs), as well as to the end users, verifying that the fire protective coating manufacturing procedures provide a product consistent to that product which was tested.

Product certification provides a tangible measure of assurance to inspectors and AHJs that the product meets applicable regulatory requirements. Further, Certification Marks are recognized by AHJs including building code officials, fire marshals, and inspectors across North America.

Certified Application
The rules of code compliance for alternative thermal barriers have changed. Anyone who applies coatings over SPF as an alternative thermal barrier must be ready to adapt to the new testing program. Becoming a certified applicator shows extensive due- diligence, training, and education. Not only a matter of compliance, it also shows how important safety is in your company's ethos. After all, it could be your spray-applied alternative thermal barrier that prevents a flashover inferno. Isn't that worth applying correctly?

About International Fireproof Technology, Inc.: IFTI manufactures state-of-the-art intumescent fire retardants and thermal barrier coatings. Designed and tested for the global market, IFTI's products are widely used in hospitals, restaurants, nursing facilities, commercial buildings, and residential homes. IFTI's products, including DC315, fall under the Paint to Protect brand, and have been developed to provide superior cost-effective fire protection over spray polyurethane foam. For more information, please use the contact details and links provided below. - See more at: www.painttoprotect.co
Contact Details
Name: Gary Wolfe
Email: Email Us
Phone No: 855-335-7675
---
Disqus website name not provided.
Coatings as Thermal Barriers: Safety and Code Compliance