Why Settle For Less?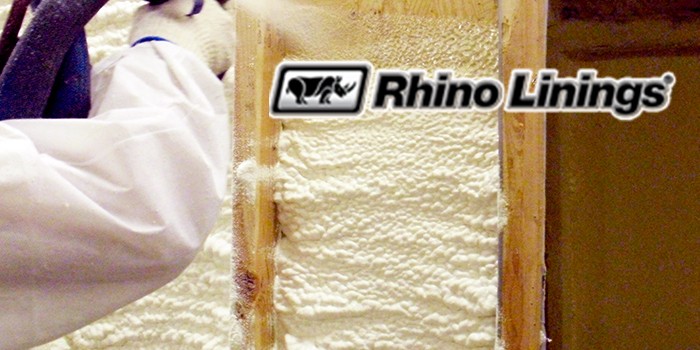 SAN DIEGO, CA
– October 21, 2016 – At Rhino Linings, we draw upon more than four decades of product development experience in the industry to create spray polyurethane foam products designed to match the needs of our contractor partners. Our product development and support teams work tirelessly to craft products that make it easier for you and your SPF crew to succeed in the field.
Whether your priority is high yield, minimum waste, code compliance or just ease of use, Rhino Linings offers a wide variety of products making it easy for you to order what you need from a single source.
Need an Appendix X-approved foam that doesn't require an additional fire barrier for one job, but an extremely high yield foam for another? No need to jump from manufacturer to manufacturer, Rhino Linings develops products that meet your needs and your customer's demands.
Rhino Linings® products include:
ThermalGuard™ OC.5, a .5-lb open-cell foam expands to over 100 times in size in approximately 4 seconds, providing superior thermal insulation in building cavities of any shape and size. It is sprayer­ friendly, features a wide­ application window, temperature tolerance and excellent adhesion.
ThermalGuard™ OC1, a 1-lb open-cell foam achieves twice the yield of 2-lb foam while reducing waste and cleanup time by up to 50 percent compared to that of a 0.5-lb foam. When applied, it expands to over 50 times in size in approximately 8 seconds to achieve an R-­value of 5.2 per inch, which satisfies energy code in most climate zones at less than 4 inches.
ThermalGuard™ OC1.6, a 1.6-lb water-blown foam expands 25 times in seconds to provide superior thermal insulation, air-barrier, and sound attenuation properties. Once fully cured ThermalGuard OC1.6 remains rigid, maintaining significant structural strength and thermal insulation properties in adverse conditions across a wide variety of applications.
ThermalGuard CC2, a 2-lb. closed-cell foam can safely be applied in lift thicknesses up to 4 inches in a single pass with excellent control and a smooth finish. It offers excellent adhesion in a wide range of ambient conditions and temperatures without settling or sagging keeps you in the game into the winter and summer.
Limited Time Offer
Now through December 31, 2016, Rhino Linings is offering trials of our spray foam products at an exclusive SprayFoam.com discounted rate to qualifying contractors. Visit
http://spf.rhinolinings.com/become-a-contractor/
, and mention code SPRAYFOAM.COM in your submission to request special trial pricing.
About Rhino Linings:
When you join Rhino Linings, you join a team dedicated to your success. Rhino Linings diverse portfolio of building and construction products provides ample opportunity for you to grow your service offerings and expand into industrial coatings, decorative concrete coatings and more. Rhino Linings Corporation, established in 1988 and headquartered in San Diego, California, is a privately-held corporation and world leader in polyurea and polyurethane coatings, foams and linings. Products manufactured and distributed by Rhino Linings include elastomeric coatings for various industries, concrete resurfacing and refinishing products, spray foam insulation and stucco. Rhino Linings Corporation has a global retail and industrial applicator network consisting of more than 2,000 independently owned and operated businesses in almost 80 countries. For more information about Rhino Linings, or to purchase Rhino Linings products or Graco® equipment visit
http://www.rhinolinings.com
.
Contact Details
Name: Megan Cravens
Email: Email Us
Phone No: 858-450-0441
---
Disqus website name not provided.