Wells Does It Well with Spray Foam Insulation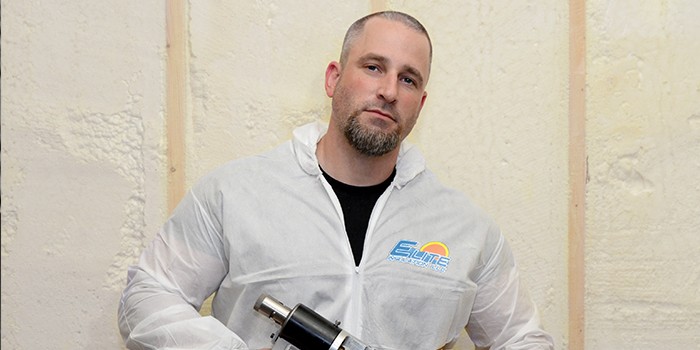 JUPITER, FL – March 5, 2018 – For our spring issue, Spray Foam Magazine puts the spotlight on Ken Wells, a savvy spray foam applicator, and owner of Elite Insulation & PolyPro LLC. He is a leader, a teacher, and a five-time SPFA Excellence Award project winner. Although those roles weigh heavily in his ability to excel in the industry, Ken prefers to be labeled as a guy who simply "tries to do all the right things."
"It's important to always be honest, keep up with industry leaders about the latest trends, adhere to standards and certifications, and maintain quality employees," says Ken.
Ken is certainly a character among the esoteric circles of the SPF community. He's the guy creating memes to post on social media that both subliminally and explicitly promote spray polyurethane foam over any other type of insulation; he's the guy that wants to be part of unique SPF application jobs in the Virginia area and wants to apply the foam himself; he's the guy that challenges many an opponent for arm wrestling contests at trade shows. But above all else at the end of the day, Ken is the family man who works doubly hard to provide for his wife, Meredith, his son, Jackson, and his daughter, Taylor.
Ken and his crew partook in the insulation of a satellite telescope at the National Radio Astronomy Observatory; a project that he claims was his favorite to date
"I like to think of myself as a pretty clever and funny guy," points out Ken. "But beyond the funny side of things, I like being able to provide an insulation package that can help a person's home or business. When a customer tells me his or her electric bill is cut by more than half of what it was prior to an install, that's a big deal for me."
RELATED Rise Up, Into The Wild, Insulating A Castle, Greater Than Gold

Ken has been involved with the insulation industry since high school. Ken's father, Bob Wells, managed a subcontracting branch of a top-level insulator, and Ken and his brother, Chris, would help with installations. After finishing college, Ken, along with his dad and his brother, decided to start a business of their own: Elite Insulation & PolyPro LLC. After 12 years and several top-notch spray foam insulation and roofing projects under his belt, Ken continues to shoot higher while constantly reminding himself that no matter how hard it may be sometimes, he is extremely lucky to be able to work with family members that he can truly trust.
"Your work is your reputation," says Ken. "There's something about having your name attached to your company that makes you want to do the best job that you possibly can. I personally like the projects that are challenging; the ones that make you dig deep and get creative to see them through."
When he's not out spraying or crafting a meme for social media, Ken likes to spend his time with his wife, Meredith, son, Jackson, and daughter, Taylor
Ken is also a teacher who enjoys giving back to the spray foam industry by performing field training for applicators to obtain SPFA's Personal Certification Program (PCP). This year marked his second time serving as a field examiner and he describes the experience as exceedingly rewarding. Teaching doesn't stop with spray foam training for Ken, he is also a middle-school wrestling coach.
RELATED Spray Foam Magazine Turns Focus to the Contractor in Latest Published Issue , Connecting With The Contractors, A Conversation with Brad Glazier, The Bigger Picture

"I get to watch guys spray, and in that process, they learn something and sometimes I learn something from them," says Ken. "You really get to know people through these lengthy tests, and the gratitude that I always get from them at the end is immense. Relationships are built there."
Asked about providing a page straight out of his book for his peers to heed, Ken decides to quote the immortal Henry Ford with a slight variation. "You can't build a reputation on what you say you're going to do."

---
Disqus website name not provided.