Volatile Free, Inc. Offers Damp Proofing/Waterproofing Coatings
Volatile Free, Inc. Offers Damp Proofing/Waterproofing Coatings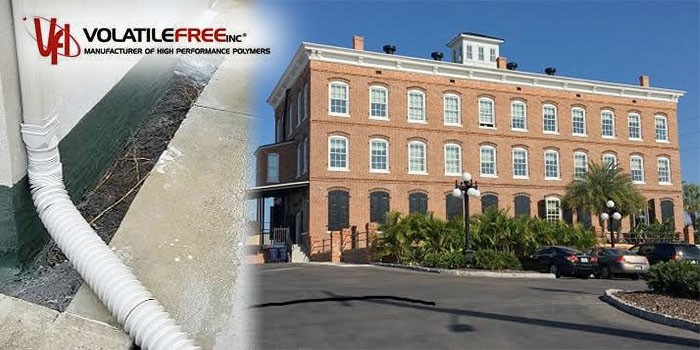 BROOKFIELD, WI – April 18, 2017– The leadership at Volatile Free, Inc. (VFI) has added three new coatings to a diverse product line. The new products include: VFI-608 Below Grade Waterproofing System, VFI-690 Waterproofing Primer and VFI-695 Clear Wall Sealant/Water-repellent.
VFI-608 is designed for waterproofing below grade masonry surfaces such as foundation, basement and retaining walls.
VFI-690 is designed to seal pores in all types of masonry walls prior to top coating with an exterior acrylic paint of the owner's choice. VFI-695 is intended for use on bare brick and stone walls and provides a durable, clear protective barrier against water and dirt.
RELATED Chemline Launches Contractor Services, Graco Launches Ultra® and Ultra® MAX Professional Airless Handheld Sprayers, Volatile Free, Inc. Announces New VFI®- Deck Coating System.
"The addition of this product line allows us to offer our customer's more waterproofing solutions," says VFI President, Nancy Hochmuth
Volatile Free, Inc. has been in business for over 20 years, manufacturing high performance polymers. Since 1995, VFI has successfully manufactured polyurethane spray foam, silicone, acrylic, urethane and related products. Utilizing advanced techniques in chemistry and technology along with steady company growth, demonstrates Volatile Free Inc.'s commitment to provide quality products and services. VFI's success is due to the strong relationships they have built while maintaining and improving their products.
To learn more about VFI's new and certified products visit at www.volatilefree.com. To place an order call (800)307-9218.
Visit Volatile Free, Inc. at the 2017 Florida Roofing & Sheet Metal Expo!
Contact Details
Name: Gretchen Jones
Email: Email Us
Phone No: 800-307-9218
Disqus website name not provided.
Volatile Free, Inc. Offers Damp Proofing/Waterproofing Coatings