Volatile Free, Inc. Announces New Drone Video Featuring Spray Foam and Silicone Roofing Products
Volatile Free, Inc. Announces New Drone Video Featuring Spray Foam and Silicone Roofing Products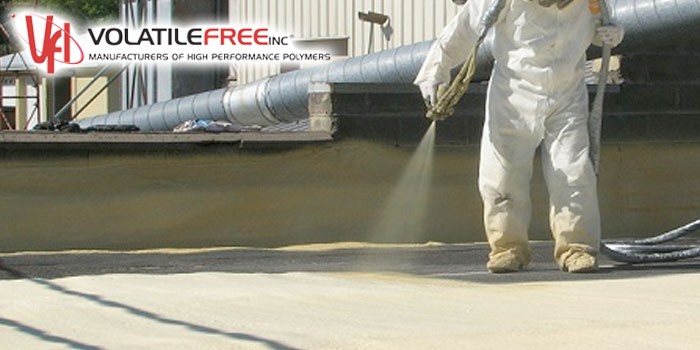 BROOKFIELD, WI – September 16, 2016 – The leadership of Volatile Free, Inc. (VFI®) has launched its first drone video featuring a certified VFI contractor applying VFI-727 Polyurethane Foam and SEALGUARD VFI-990 SILICONE. The footage shows aerial shots of the Barron Area School District facilities in Barron, Wisconsin.

The contractor used an automated robotic spray machine to apply the VFI-727 Polyurethane Foam on a single-ply roof. The contractor then spray applied SEALGUARD VFI-990 SILICONE base coat in Medium gray and then a Light Gray top coat.

"We are eager to show the industry our superior products in action," says VFI® President, Nancy Hochmuth.
RELATED Honeywell Challenges Spray Polyurethane Foam Insulation Contractors and Builders To "Hit a Foam Run", Lapolla Industries Introduces FOAM-LOK™ FLX 500-EM Spray Polyurethane Foam for Insulation Applications, When It Comes To Spray Foam, Certification Matters
The marketing department has been developing new content for the Volatile Free, Inc.'s YouTube page. VFI is excited to increase its visibility in the market through new video production.

Volatile Free, Inc. has been in business for over 20 years, manufacturing high performance polymers. Since 1995, VFI has successfully manufactured polyurea and polyurea hybrid products, and has remained strong in the industrial and commercial roof coating industry, while branching into more OEM markets. VFI's success is due to the strong relationships they have built while maintaining and improving their products.

To learn more about VFI's new and certified products visit at www.volatilefree.com. To place an order call (800)-307-9218. Visit Volatile Free, Inc. at the SPFA and International Roofing Expo next year!

Contact Details
Name: Gretchen Jones
Email: Email Us
Phone No: 800-307-9218
Disqus website name not provided.
Volatile Free, Inc. Announces New Drone Video Featuring Spray Foam and Silicone Roofing Products