T-rex-tra Special Sculpture
T-rex-tra Special Sculpture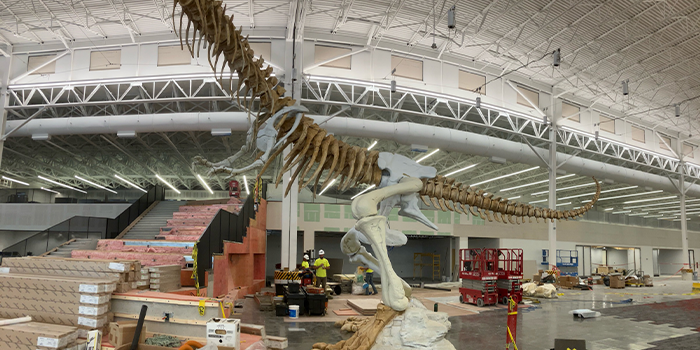 SPRAY FOAM MAGAZINE – Meet Rexy, a spray foam project of Jurassic proportions. Towering above the stacks in the children's department at the Frisco Public Library in Frisco, Texas, she's a free-standing sculpture of a Tyrannosaurus rex measuring in at over 20-ft tall and 40-ft wide. To top off her impressive stature, she's complete with a motorized, movable head, footprints that rumble when stepped on, and handcrafted, hyper-realistic bones made from polyurethane foam that library visitors can touch, hug, and pose for photos with.
Rexy was created by a team of about 15 creatives ranging from engineers to artists from Artisan Industry, LLC, in Columbia, Tennessee. President Kevin Hale and his team created Rexy piece by piece at their shop in Tennessee, then transported the individual pieces to Texas where it was assembled over the course of three days at its final home in the newly built Frisco Public Library, which had its grand opening in March 2023.
Library visitors need not fear Rexy's massive proportions. Rexy is remarkably stable thanks to the steel internal structure and the false floor platform bracing her feet and legs. According to Hale, designing the internal structure was a challenge because it had to be completely self-supporting, and able to withstand children climbing and playing on and around it. "We weren't allowed to have any parts hanging from the ceiling," says Hale.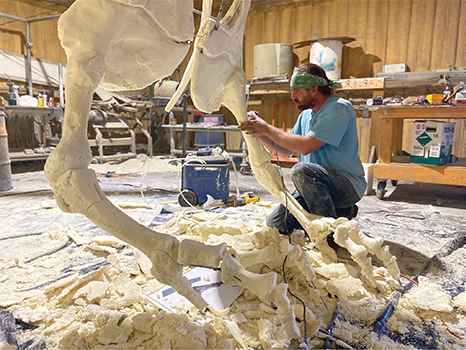 Artist Jeremy Simon sculpting one of Rexy's vertebrae
He and his team took this challenge in stride, revising their plans along the way. The original idea was for Rexy to be a fully fleshed-out dinosaur replica complete with a slide. She might not have a slide or skin on her bones, but Rexy's final form is just as remarkable. Her motorized head moves, and she has an outlet in one of her arms for lights or other decorations. Hale says Rexy is currently undergoing an upgrade to be able to talk to the library visitors who come up to her. Her polyurethane foam bones are designed to be touchable and easy to clean, which anticipates and encourages visitor interaction.
After completing the engineering feat that is Rexy's internal structure, foaming and painting the exterior dinosaur bones took only three weeks. Hales' team used a Graco Reactor 2 E-XP2 and Fusion AP guns to apply JM Corbond IV, a closed-cell spray polyurethane foam (SPF). It took one set of foam to complete the entire project. To help the foam adhere to the structure, the artists used wooden cutouts in the shape of the respective bones, which they then covered in a thick layer of foam. The process required applying a heavy layer of SPF to Rexy's individual vertebrae, then trimming, shaping, and sculpting the bones to perfection. They painted some of the bones at the shop in Tennessee, and others on-site in Texas. Spray foam saved the day during transport, because all the team had to do was wrap the pieces in saran wrap, apply a protective layer of foam, and then load them into the trailer. The SPF is one of the most important materials and processes involved in bringing Rexy to life.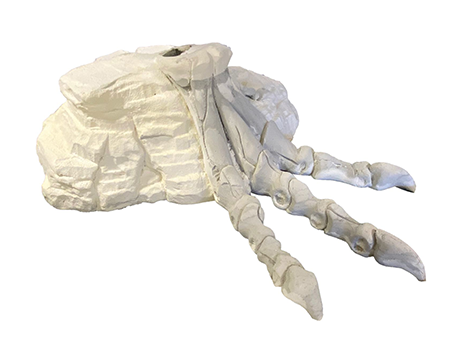 Rexy's feet and boulders under construction at Artisan Industry's shop in Columbia, T
In his YouTube video "The Making of Rexy Part 2," Hale shares his appreciation for the foam's versatility and efficiency, "It cures so quickly that I can drop the foam gun, pick up a Sawzall, carve it to get the shape that I like, then go right back to foaming." After sanding, sculpting, and painting, it doesn't look like insulation anymore, but a recently unearthed, prehistoric fossil to marvel visitors old and young.
Hale and his team also created 12 individual footprints out of SPF, and when visitors step on the footprints, they make a mighty rumbling sound like the famous T-rex from Jurassic Park. There are also rocks at the base of Rexy's feet, where visitors are free to lounge and read a book up close and personal with the dinosaur. Looking too closely at Rexy's fine features might reveal some imperfections like small cracks and other textures, but to Hale, that's the beauty of using spray foam on projects like these.
In a Facebook update about the project, Hale mentions that some of the artists were worried about some of the cracking textures. However, he was quick to reassure them of a job well done, stating, "My favorite part is the bone breaks on the leg. IT IS A FOSSIL!"
From her steel frame to her spray foam bones, Rexy is built to welcome and to withstand. Unlike her real-life dinosaur ancestors, she probably won't have to endure any asteroids, and she's perfect to sit beside and enjoy a good book.
For use by SprayFoamMagazine.com & Spray Foam Magazine

Disqus website name not provided.
You May Also Like
T-rex-tra Special Sculpture