Study Finds Green Home Building Continues to Gain Traction
Study Finds Green Home Building Continues to Gain Traction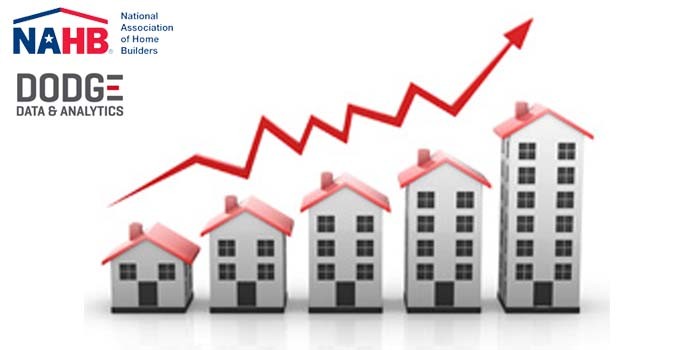 WASHINGTON, D.C. – October 23, 2017 – Green construction is rapidly gaining traction among both single family and multifamily home builders, according to new research published in the Green Multifamily and Single Family Homes 2017 SmartMarket Brief.
The latest in a series of studies conducted by Dodge Data & Analytics in partnership with the National Association of Home Builders (NAHB), the study shows that green homes are continuing to gain market share.
At least one third of single family and multifamily builders who were surveyed said that green building is a significant portion of their overall activity (more than 60 percent of their portfolio). By 2022, this number should increase to nearly one half in both the single family and multifamily sectors. Within this group, nearly 30 percent of multifamily builders fall into the category of "dedicated" green builders (more than 90 percent of their portfolio). On the single family side, the percentage of "dedicated" green builders is nearly 20 percent, but that share is expected to grow sizably by 2022.
"These findings show that green building has become an established part of the residential construction landscape," said NAHB Chairman Granger MacDonald, a home builder and developer from Kerrville, Texas. "It is no longer a niche business; our members recognize the value of building green and are incorporating these elements into their standard business practices."
Increasing energy efficiency continues to be the most common method of improving the performance of a green home, followed by creating a healthy indoor living environment.
"As consumers become more familiar with the impact that their homes can have on their health and well-being, we wouldn't be surprised to see the influence of this factor continue to grow," said Steve Jones, Dodge's Senior Director of Industry Insights Research. "Homes are following the larger trend that Dodge has been tracking across commercial and institutional sectors for healthier buildings to become an increasingly important part of being sustainable."
RELATED Dodge Data & Analytics to Present 2018 Construction Industry Forecast at Annual Outlook Conference, Dodge Data & Analytics Introduces Dodge PreQual, a Prequalification Module for Dodge PlanRoom, NAHB Study Shows Home Buying a Strong Boost to Overall Economy, Dodge Data & Analytics: President-Elect Donald Trump Likely to Be a Plus for the Construction Industry

The report also found that a considerable number of builders are developing net zero homes or plan to build net zero homes in the near future. Among those surveyed, 29 percent of single family home builders have built a net zero home in the past two years, and 44 percent expect to do so in the next two years. Builders see increased customer demand and a competitive advantage as the top two drivers to develop net zero homes.
Another reason for the rise in net zero homes is the increasing use of renewable technologies, especially solar photovoltaic panels. In two years, the percentage of builders who used these panels increased from 19 to 23 percent. Nearly half (43 percent) of the builders surveyed expect to use this technology in the future.
Other SmartMarket findings suggest the single family green home market is maturing. For one, the report found that home builders are less concerned about higher start-up costs than in previous studies. There was also a decline among people who think consumers will not pay additional costs for green building. Finally, between one half and two thirds of respondents say seven different drivers are pushing them to build green, instead of one or two drivers as in the past. In fact, these top drivers, selected by between 64 and 57 percent of single family builders, include customer demand; greater availability and affordability of green products; the prospect of producing a higher quality home; appraisers recognizing greater value in green homes; government or utility incentives; and changes in codes, ordinances and regulations.
Multifamily builders see government or utility incentives; customer demand; and changes in codes, ordinances, and regulations as the top drivers for future green building activity. With respect to green building obstacles, multifamily builders are most concerned about the costs associated with green; higher start-up costs; and the unwillingness of consumers to pay more for green construction. Single family builders agree about the challenge of consumers not being willing to pay, the top obstacle for them.
Contact Details
Name: Elizabeth Thompson
Email: Email Us
Phone No: 202-266-8495
Disqus website name not provided.
Study Finds Green Home Building Continues to Gain Traction