Student's 'Peek' Travel Product For Children Wins Annual Design Innovation In Plastics Award
Student's 'Peek' Travel Product For Children Wins Annual Design Innovation In Plastics Award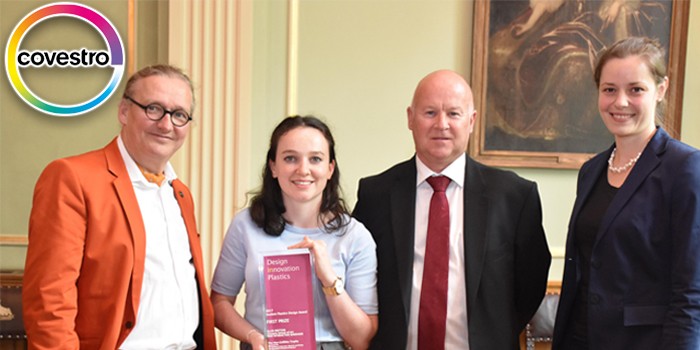 LEVERKUSEN, GERMANY – August 14, 2017 – A university student's product to keep bored children engaged and happy on travel journeys has scooped top prize in the annual Design Innovation in Plastics competition, headline sponsored by Covestro.
The competition, which is organised by the Institute of Materials, Minerals & Mining and the Worshipful Company of Horners, awarded first prize to Ellen Britton, a Year 4 Product Design Engineering student at Glasgow School of Art.
The competition brief, 'Products for Independent Travel,' had challenged students to design an innovative product, primarily in plastic, that will provide a more comfortable and less stressful travel experience. Entries ranged from beach skis for wheelchairs and modular backpack systems to shower boxes.
Ellen designed a new product called 'Peek', an interactive travel sunshade, which uses smart technology, allowing children to use their imagination to create pictures, while still capturing glimpses of the big outdoors through a car or train window.
Her product was praised by the chairman of the judging panel, Richard Brown, RJG Technologies, who said: "Ellen demonstrated her knowledge of her chosen market, getting children from a Montessori school to test the product and explaining the material investigation she had undertaken to provide the solution. She is a very worthy winner, and the judges will take an active interest in how this product develops."
Covestro design engineer, Mike Stuart, who was also part of the judging panel, said: "Ellen's was a really novel idea, using materials which have been around for a while, but which we had never seen used in this imaginitive way before. We liked the attention to detail, and the fact Ellen talked with manufacturers to discuss the correct products.This design had been further refined following the first phase of judging, and costings provided, which was appreciated by the judges."
The judges awarded second place to University of Central Lancashire student, Kayleigh Dobson, who produced 'AirBaby' a portable, inflatable lap seat to use for babies when traveling.
Russell Kilgour, product Design Engineering, Glasgow School of Art, was third with his 'Nomad' Utility Travel Camera Bag.
Highly commended prizes were awarded to the remaining three finalists:
Aidan Smith, Design for Industry, Northumbria University: 'Pedlock' bicycle pedal with integral lock.
Monique Spoerri, Product & Furniture Design, De Montfort University: 'Lumen' Light Therapy Face Mask to counteract the effects of jet lag.
Dom Tindale, Design for Industry, Northumbria University: 'Skin Watch Wristband' that reminds travellers to reapply sun cream to prevent sun burn.
Both the winner and runner up will receive an all expenses paid trip to Germany to spend a week with Covestro, and each finalist will be offered a week's work placement with competition sponsors, who are all market leaders in the fields of design and innovation.
The prestigious Design Innovation in Plastics Award is the longest running student plastics design competition in Europe, having been established in 1985.
Ellen receives £1,000 plus the trip to Covestro, Leverkusen, Germany: a training course at RJG Technologies Ltd, Peterborough, an invitation to the Annual Banquet of the Worshipful Company of Horners, plus the Alan Griffiths Trophy.
About 'Peek'
Peek is a product that engages children with the world outside as they travel. It is an interactive sunshade for use on different modes of transport, that uses the smart technology of thermochromic film. Children can scribble an image onto the black surface and through it glimpse what is outside, and then watch as their scribble fades back to black and disappears.
The sunshade is constructed from a top layer of 'touch and reveal' thermochromic film over several layers of different flexible plastics: . It can be rolled up for travel.
Materials used: Nano suction tape (adhesive); Transparent PVC (insulation); UV treated polyethylene (UV radiation blocking); metallised polyethylene (heat rejection); touch and reveal thermochromic film; moulded PVC frame (structural integrity and brand identity).
About 'Airbaby'
Airbaby is a soft, inflatable lap seat for babies up to six months that allows both hands of the parent to be free to interact with the baby or engage in another activity. It is shaped in a semi-upright position to prevent acid reflux and colic. A large, multi-layered valve on the underside allows for rapid inflation/deflation and it packs away for storing inside a changing bag or hand luggage. It is primarily made of ultralight TPU (Thermoplastic Polyurethane) polymer. Smaller inner tubes will be coated in a 50-denier polyester stretch-knit outer surface
About 'Nomad'
Nomad addresses the problem of a photographer on the move, carrying SLR camera equipment and luggage. Normally, the camera and accessories are in separate bags which causes frustration and wastes time when switching between different lenses. This product reduces stress as the camera and accessories are attached to a body strap and easily accessible. The camera is attached to a plate (the 'clip body') that is locked securely to the strap by four powerful magnets and other items can also be attached to the strap. Nomad is designed to be as lightweight and as small as possible for packing into hand luggage, and occupies 50% less space than a standard small camera bag.
Plastics are used throughout – ABS (Acrylonitrile-Butadiene-Styrene) for the plate holding the camera, ABS for the frame of the neoprene bag which can hold two regular SLR lenses or one lens over 100mm long, plus Nylon buckles.
About Covestro:
With 2016 sales of EUR 11.9 billion, Covestro is among the world's largest polymer companies. Business activities are focused on the manufacture of high-tech polymer materials and the development of innovative solutions for products used in many areas of daily life. The main segments served are the automotive, construction, wood processing and furniture, and electrical and electronics industries. Other sectors include sports and leisure, cosmetics, health and the chemical industry itself. Covestro, formerly Bayer MaterialScience, has 30 production sites worldwide and employs approximately 15,600 people (calculated as full-time equivalents) at the end of 2016.
Contact Details
Name: Rachel Owen
Email: Email Us
Phone No: +44 1635 760209
Disqus website name not provided.
Student's 'Peek' Travel Product For Children Wins Annual Design Innovation In Plastics Award