SSPC Awards Dudley J. Primeaux & Todd A. Gomez Outstanding Publication Award
SSPC Awards Dudley J. Primeaux & Todd A. Gomez Outstanding Publication Award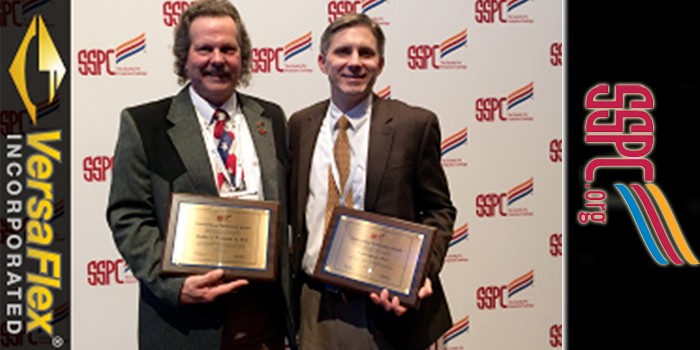 SAN ANTONIO, TX – February 4, 2016 – Dudley J. Primeaux II, PCS, CCI and Todd A. Gomez, PCS of VersaFlex, Inc. were presented the "JPCL Outstanding Publication Award" on January 18th during the 2016 SSPC Conference and Exhibit in San Antonio, Texas.

The JPCL Outstanding Publication Award was presented to Mr. Primeaux and Mr. Gomez for their outstanding publication and presentation on, "Pipeline Rehabilitation: Advances in Polyurea Spray Application." This publication explored developments in robotic polyurea spray technologies for in-place pipeline rehabilitation. The award itself states "for advancing the protective coatings industry with his paper, "Pipeline Rehabilitation: Advances in Polyurea Spray Application."

"The entire team at VersaFlex is very proud to have two of our people selected for this award," although it comes as no surprise, that through all of their experience and efforts, Dudley & Todd would be presented with such an honor from such a strong group like the SSPC," stated David Cerchie, President of VersaFlex, Inc. This is the second award for Dudley and Todd, who were also presented the JPCL Editors' Award in 2015 for their publication, "Robotic Sprayed-in-Place Pipelining: The Polyurea Goes Round & Round." This publication explored robotic SIPP developments (Sprayed-in-place-pipe), polyurea systems designed for application work in industrial and water/wastewater applications as well as Industry Standards being prepared for robotic sprayed-in-place pipe.

RELATED Introducing the World's First Zero Isocyanate Industrial and Commercial Coating, Andy Schultze Joins VersaFlex as Marketing Associate
Dudley Primeaux is Director of Education & Development for VersaFlex, Inc. and Lead Instructor for Polyurea University. Todd Gomez is Regional Sales Manager for VersaFlex, Inc.

About Polyurea University: Led by Dudley J. Primeaux II – PCS, CCI – The Polyurea University holds beginner through expert level courses in Polyurea Coatings and Linings Application. The schools are headquartered in Houston, Texas at their dedicated Polyurea University Technical Education Campus. Classes are held monthly.

About VersaFlex Incorporated: VersaFlex Incorporated formulates, manufactures and supplies pure polyurea coatings, liners and sealants for a wide variety of industrial, commercial and maintenance environments. For more information about our full line of products, please contact us.

About SSPC: SSPC: The Society for Protective Coatings was founded in 1950 as the Steel Structures Painting Council, a non-profit professional society concerned with the use of coatings to protect industrial steel structures. In 1997, the name of the association was changed to The Society for Protective Coatings to better reflect the changing nature of coatings technology and the ever-expanding types of construction materials. SSPC is the only non-profit association that is focused on the protection and preservation of concrete, steel and other industrial and marine structures and surfaces through the use of high-performance protective, marine and industrial coatings. SSPC is the leading source of information on surface preparation, coating selection, coating application, environmental regulations, and health and safety issues that affect the protective coatings industry.

Contact Details
Name: Doug Commette
Email: Email Us
Phone No: 855-866-7909
Disqus website name not provided.
SSPC Awards Dudley J. Primeaux & Todd A. Gomez Outstanding Publication Award