SprayWorks to Host Fundraiser Supporting Veterans Currently Working in Spray Foam Industry
SprayWorks to Host Fundraiser Supporting Veterans Currently Working in Spray Foam Industry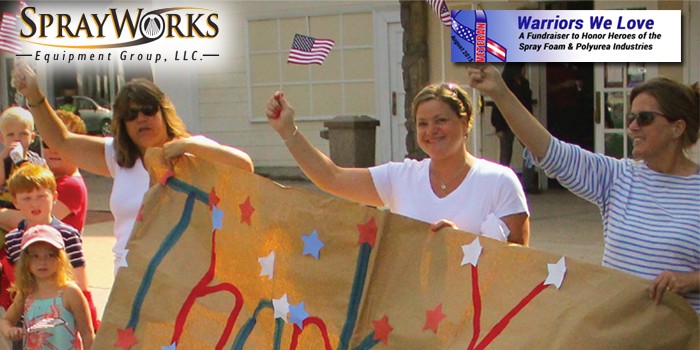 CANTON, OH – July 24, 2015 – SprayWorks Equipment Group announced plans to donate funds to assist service members who have been injured in the line of duty. All proceeds from Warriors We Love will be donated to the nonprofit organization Wounded Warrior Project™ (WWP), and will support a full range of programs and services for this generation of injured veterans and their families.
Throughout August, SprayWorks is honoring the men and women who have served the United States and are currently working in the spray foam, polyurea, and construction industries. If you know a veteran or are a veteran in these industries, send your photo or video, name, company name, and years served to Jennifer (see contact info) or visit store.sprayworksequipment.com/warriors-we-love to donate. More than 52,000 servicemen and women have been injured in the recent military conflicts. In addition to the physical wounds, it is estimated as many as 400,000 service members live with the invisible wounds of war including combat-related stress, major depression, and post-traumatic stress disorder.

"We were looking for an opportunity to give back and nothing came closer to home than supporting our country's veterans." says Owner, James Davidson, "We hire veterans and just want to continue giving back to a great cause – which is why we chose Wounded Warrior Project™."

RELATED Spray Foam Equipment Manufacturer Makes Waves , NRCA Releases Updated Toolbox Talks
About Wounded Warrior Project TM: The mission of Wounded Warrior Project™ (WWP) is to honor and empower wounded warriors. WWP's purpose is to raise awareness and to enlist the public's aid for the needs of injured service members, to help injured servicemen and women aid and assist each other, and to provide unique, direct programs and services to meet their needs. WWP is a national, nonpartisan organization headquartered in Jacksonville, Florida. To get involved and learn more, visit woundedwarriorproject.org.
About SprayWorks Equipment Group: SprayWorks Equipment Group is a spray foam and polyurea company, supplying equipment, training, chemicals, and services. With over 65 years of combined experience SprayWorks has knowledge in commercial and residential buildings, bridges and infrastructure. SprayWorks provides training and education for new contractors and equipment operators; open cell, closed cell, polyurea & coating applications for interior & exterior building envelope design, waterproofing, below grade, bridge deck, barge, secondary containment all types of roofs and structures. For more information, visit store.sprayworksequipment.com/warriors-we-love. Call 330-587-4141 or e-mail moreinfo@sprayworksequipment.com
Contact Details
Name: Jennifer Davidson
Email: Email Us
Phone No: (855) 852-6222
---
Disqus website name not provided.
SprayWorks to Host Fundraiser Supporting Veterans Currently Working in Spray Foam Industry