Spray Foam Systems Presents New Equipment that Streamlines the Insulation Industry
Spray Foam Systems Presents New Equipment that Streamlines the Insulation Industry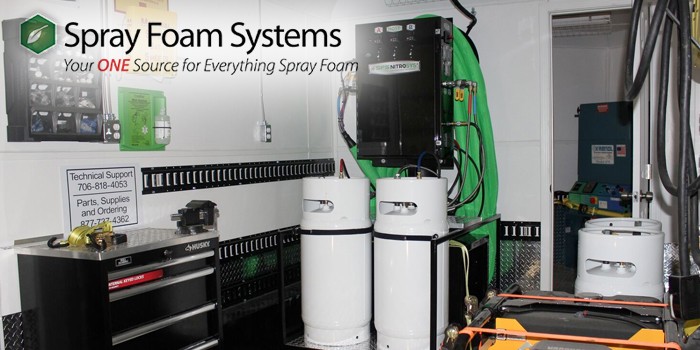 GREENSBORO, GA
– April 18, 2016 – Getting into the spray foam industry has proven to be a major stepping stone onto the path of success for many an insulation contractor, whether they are just getting into the insulation game or they are an existing insulation company that specializes in fiberglass or cellulose applications and are considering augmenting their business. As the construction industry – with refined government regulations for energy-efficient structures in tow – expanded, so did the demand for energy-efficient technologies like SPF. Guided by this consistent need for spray foam applications in the residential and commercial construction sectors, insulation contractors grew less hesitant to make respective investments to add spray foam to their list of services.
However, there are many current and potential contractors out there that still find taking the initial step to incorporate SPF to their business somewhat daunting. This uncertainty stems from the initial cost, as well as the complexities of spray foam equipment in terms of maintenance. Truth is, spray foam equipment can be expensive and it can break down in the field, so a contractor may not be willing to sustain the additional cost or the intensive labor required to troubleshoot equipment issues. Therefore, finding cost-effective, yet efficient, SPF equipment can be the tipping point for a contractor to break into spray foam and, in doing so, revamp their business model.
RELATED
Rhino Linings Recognized as a Top Distributor of Graco Polyurea and Spray Polyurethane Foam Equipment
,
Spray Foam Equipment & Manufacturing Discusses Key Components of High-Performance Proportioner Design
,
SprayFoam.com To Unveil Rig Contest Winner at SPFA Convention & Trade Show
To read the full article on Spray Foam Magazine, please click the link provided below.
Contact Details
Name: TJ Peters
Email: Email Us
Phone No: (877) 737-4362
Disqus website name not provided.
Spray Foam Systems Presents New Equipment that Streamlines the Insulation Industry