Spray Foam Equipment Distributor Invents New Product
Spray Foam Equipment Distributor Invents New Product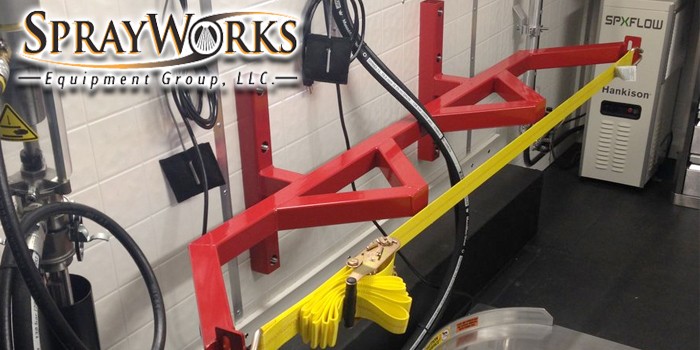 CANTON, OH – November 4, 2016 - SprayWorks Equipment Group, an Ohio-based PMC equipment distributor and manufacturer of the Barrel Blazer and Spraybot, has released a new drum heater – the Dual Barrel Blazer. Previously only available as a single drum heating unit, the Dual Barrel Blazer allows contractors to heat full size 55 gallon drums side-by- side – whether in a mobile rig or inside a building.
Weighing only 70 pounds, the Dual Barrel Blazer is lightweight and is designed to fit perfectly into a mobile spray foam or polyurethane spray rig. SprayWorks designed the dual heater as an extension of the single drum heating unit in order to continue to fulfill customer needs for a larger drum heating system.
"The Dual Barrel Blazer is designed to make material management stress-free for the contractor." said Jim Davidson, Owner of SprayWorks Equipment Group and Inventor of the Dual Barrel Blazer. "Contractors can keep material warm and ready to use – all while minimizing waste."
RELATED PMC Celebrates Partnership and Pride, ACME Machinery Unveils New High Performance Spray Polyurethane Foam Proportioners , SPI Announces 2015 Distributor of the Year Award
About SprayWorks Equipment Group: SprayWorks Equipment Group is a spray foam and polyurea company; supplying equipment, training, mobile rigs, and parts – and the #1 distributor for PMC equipment. With nearly 100 years of combined experience, SprayWorks has knowledge in commercial and residential buildings, bridges, and infrastructure. SprayWorks provides training and education for new contractors and equipment operators; open cell, closed cell, polyurea & coating applications for interior & exterior building envelope design, waterproofing, below grade, bridge deck, barge, secondary containment all types of roofs and structures. For more information, visit www.SprayWorksEquipment.com or YouTube. Call 330-587- 4141 or e-mail moreinfo@sprayworksequipment.com
Contact Details
Name: Jennifer Davidson
Email: Email Us
Phone No: 614.454.1981
---
Disqus website name not provided.
Spray Foam Equipment Distributor Invents New Product