Spray Foam and Stucco Combine to Bolster Southwestern Vacation Home
Spray Foam and Stucco Combine to Bolster Southwestern Vacation Home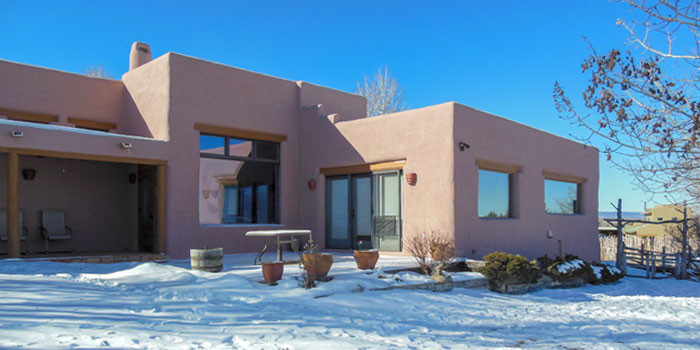 TAOS, NM – June 3, 2019 – The New Mexico desert sun can be quite unforgiving for stucco-finished homes in the area. In fact, stucco-based systems - or even most conventional air barrier systems - can seldom withstand the deteriorating properties of the Southwestern climate for long periods of time before a re-application is needed. However, if stucco finish is combined with spray polyurethane foam - well that's a different story altogether. It is a combination that can result in a durable and aesthetically pleasing stucco exterior.
It is a unique system - but it is only as good as the folks who install it like Robert "Bob" Lepage, owner and operator of Ex-El Sustainable Systems LLC (Ex-El) based in Albuquerque, New Mexico, is a 45-year old spray foam industry veteran and a vetted specialist in the application of these exterior SPF systems, which he refers to as "SynthFoam" wall projects.
"It [the spray foam system] provides a fully adhered insulation layer, air barrier and durable stucco finish that does not crack in the harsh New Mexico heat," notes Lepage. "We've seen homes where, after 20 years, there are no cracks in the system and the synthetic stucco is still holding up well and looks great!"
Because of his experience and know-how, Lepage's expertise was called into action after a resident of the nearby town of Taos, New Mexico decided to retrofit an old rural estate into a vacation home. Lepage recommended a "SynthFoam" wall installation to effectively create a monolithic air and vapor barrier that promotes longevity for the home and also provides its visitors with comfort derived from superlative insulation.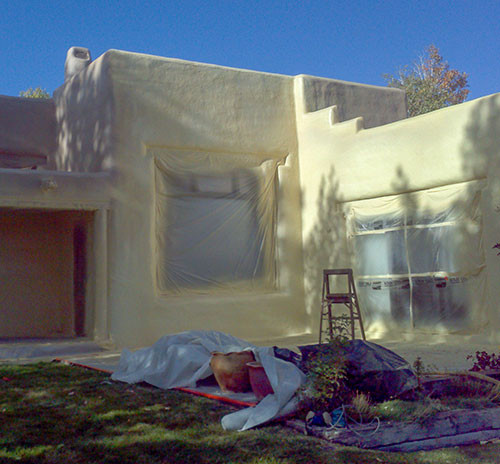 After Lepage was given approval from the vacation homeowner, he assembled a three-man crew from his Ex-El team, who began prep work on site. The crew removed loose or deteriorated materials from the existing stucco exterior wall and power washed the entire exterior surface. Then they masked off every exterior opening from the windows and doors to the concrete slabs.
Then, they fired up their Graco E-30 proportioner, suited up in Tyveks, and commenced the SPF application. The foam application consisted of the entire exterior structure, including below grade, which was approximately 5,500 square fate of walls. They installed to the entire area one inch of SWD Urethane's Quik-Shield 125, a 2.5 lb. closed-cell spray foam product. Once the foam was in place, the El-Ex crew removed the masking and proceeded to trim and sand the areas around the windows, doors, eaves, and slabs as needed and affixed caulking around these areas.
Prior to the application of stucco, the spray foam was covered with a 1 gallon per square foot pass of SWD's Quik-Shield 1929 F, a flame-retardant acrylic elastomeric coating. The acrylic coating provided UV protection for the foam and created greater adhesion for the stucco. To complete the system, a layer of synthetic stucco was applied to the entire exterior of the home.
Lepage affirmed that with this system in place, comfort will be no cause of complaints from future vacationers staying at the home.
Disqus website name not provided.
Spray Foam and Stucco Combine to Bolster Southwestern Vacation Home