On the Frontline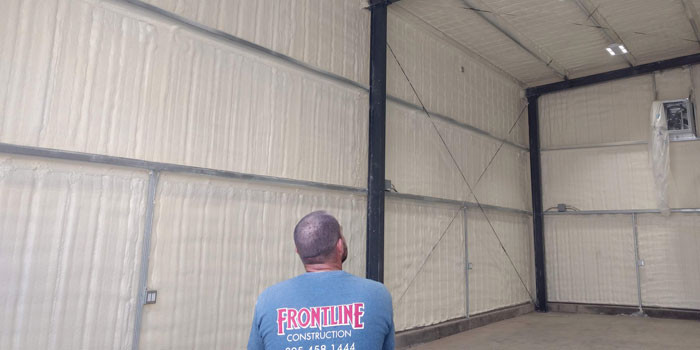 Spring 2020 – Spray Foam Magazine – Jake Schultz is the owner of Frontline Spray Foam in Central California. He grew up in the construction business and following in his father's footsteps, became a general contractor in San Luis Obispo County in 2000 specializing in the outdoor living side of the industry. Jake had a very close relationship with his father, a military veteran who, after being drafted at an early age, served our country on the frontlines in Vietnam for almost four years. For Jake, Frontline, seemed like the perfect name to pay homage to his dad.
About four years ago, Jake bumped into someone who was in the spray foam business in Washington who mentioned that it was a growing industry. This sparked Jake's interest, so he decided to expand his business and change things up a bit. Today, the spray foam side of Jake's business has taken the lead as his business has grown exponentially, especially in the last year. Jake states, "Spray foam has changed my business for the better. It's been a lot of work getting started and a lot of investment, but this past year we have switched to doing 100 percent spray foam.
I haven't even been bidding construction jobs since I've been so busy with the spray foam side.
When asked what attributed to the big increase in his spray foam business, he cited the new laws in California as being a major reason for the recent growth. California Energy Code 2019 - Building Energy Efficiency Standards - Title 24, is designed to reduce wasteful and unnecessary energy consumption in newly constructed and existing buildings. Buildings permitted on or after January 1, 2020, must comply with the 2019 standards. With these codes being enforced, more and more people are turning to spray foam making it a very lucrative business to be in. As we all know, the entire country is following suit as the importance of energy efficiency is on the rise.
Jake also mentioned that when he first started his spray foam business not many people knew about it, making it a bit of a hard sell. He says that, "now more and more people are learning about spray foam and we are flying solo around this area, being the only one doing it, so that's really good for our business. His crew at the moment consists of himself, a foreman, and a laborer, but with all the new business, Jake is looking to hire more employees to keep up with the increasing demand of spray foam.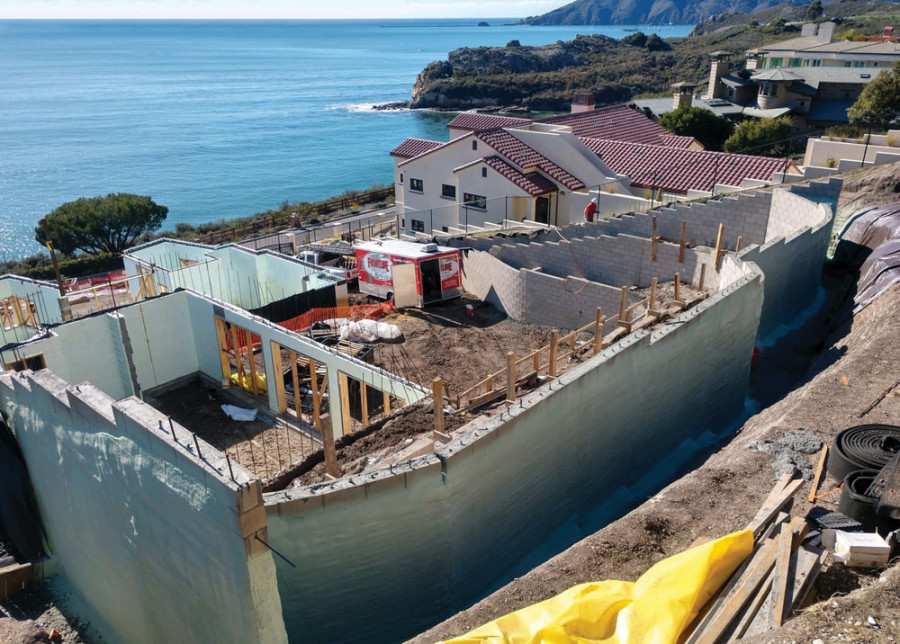 As a California-based spray foam company, Frontline is on the forefront of exciting installation projects, such as buildings for wine storage (opposite) and waterproofing walls of homes with picturesque views.
He also mentioned that he sometimes does travel a little for a job if it's one that is particularly worthwhile. Jake mostly goes where the general contractor asks him to go, but typically not much more than three hours away.
His favorite brand of foam at present is SWD. He says that it has a big range of use in hot and cold weather and it's easy to dial in. When it comes to HFO closed-cell blowing agents, he chooses Carlisle SP because SDW at present doesn't have HFO which is becoming a California requirement being that it is made from vegetable paste and is ozone friendly.
When asked about any unique projects he's been involved in, he shared that his company spray foamed a barn built in Solvang, California that was originally built in 1890 and was being converted into a wine storage facility. The barn was 35 feet high at its peak with the total area being 4,000 square feet. Jake and his crew sprayed the entire interior with closed-cell foam. He covered the studs and rafters with spray foam, basically one complete spray foam enclosure with DC315 on top of it to give it a fire rating.
Jake feels that the spray foam industry is about to "really boom." He says, "The spray foam industry is going to explode within the next year, especially in California. It seems every code is going to require it as time goes on. I love it and want to continue doing it." He also relays that he keeps himself and his guys up to date on training and certifications. He doesn't want to be a "fly by night" operation. Jake recognizes the need for industry certifications and quality training to keep his business recognized as an experienced, knowledgeable, and dependable leader in the spray foam industry.
In his spare time, which he laughs at the mention of those two words, Jake spends time with his family. He and his wife have six children ranging from two-and-a-half-year-old twins to a nineteen year old. His wife has a successful full-time career as well, so as one can imagine, this is a busy family. Jake loves to make time to ride dirt bikes with his kids and enjoys coaching their baseball teams. With a rapidly growing business and a large active family, Jake is a busy guy who wouldn't have it any other way.



Disqus website name not provided.
You May Also Like