Huntsman Building Solutions Recognized by CCMC
Huntsman Building Solutions Recognized by CCMC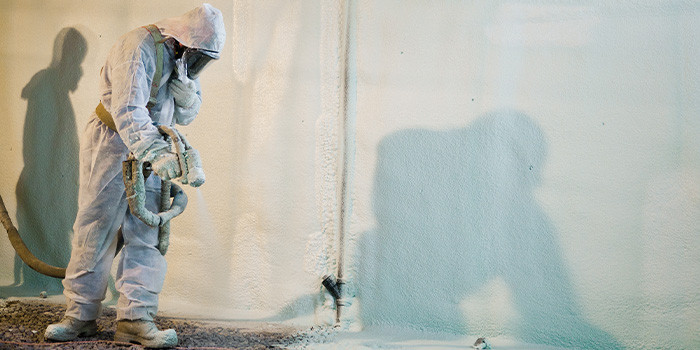 BOISBRIAND, QC – April 5, 2023 – Huntsman Building Solutions (HBS) has received product code compliance (NBC 2015) recognition from The Canadian Construction Materials Centre (CCMC) for its Radon Protection System with a closed-cell polyurethane spray foam insulation product when used as an effective soil gas (radon) barrier in accordance with the recent 14280-R CCMC evaluation. Section 9.13.4.2.(1) of Division B of the NBC 2015 requires an effective air barrier system be installed as a barrier to soil gas. HBS' Heatlok® Soya HFO, qualifies as protective air barrier systems for radioactive radon.
"We were the first spray foam manufacturer to test our products for radon diffusion more than 10 years ago, and the recent recognition by CCMC is the result of additional testing that we have completed," says Maxime Duzyk, director of building science and engineering with Huntsman Building Solutions. "The key difference between our products versus others is that only 38mm of spray foam is needed for a solid soil gas barrier, versus other spray foam products needing 50mm. It means time and cost savings for architects, builders and contractors."

HBS Heatlok® Soya HFO when installed at 38mm, show better resistance to radon than 6-mil polyethylene (that is, the NBC 2015 benchmark acceptable solution). The following were the key performance requirements for the evaluation of soil gas (radon) control beneath concrete slabs-on-ground and for wall, roof and floor assemblies:
Material qualification: Medium-density spray polyurethane foam (SPF) complying with CAN/ULC-S705.1, and installation as per CAN/ULC-S705.2. Confirmed through possession of active CCMC Listing.
Air barrier system: The air barrier system for floors-on-ground qualification through testing. The NBC 2015 benchmark is 6-mil polyethylene as per Sentence 9.25.3.6.(1) of Division B of the NBC 2015.
Soil gas barrier: The barrier performance against soil gas, specifically radon, based on qualification testing, small-scale and large-scale. The NBC 2015 benchmark is 6-mil polyethylene as per Sentence 9.13.4.2.(1) of Division B of the NBC 2015, referring to Sentence 9.25.3.6.(1).
Resistance to mechanical damage: Repeat small-scale radon-barrier testing with indented SPF by simulated concrete pour/workman load damage.
It is important for architects and builders to know that recognized spray foam insulation radon systems must be applied on site by qualified installers who are undertaking a 2-day training, run by members of the HBS tech department and engineering team, and a 3-day Caliber certification program. After passing an examination, attendees will receive an HBS Approved Applicator diploma as well as a Caliber certified installer license.
"Our research and development team are always innovating to ensure we provide exceptional spray foam insulation product meeting high quality standards for the needs of contractors, building design, and construction professionals that we serve. We are proud to offer products that multi-task and deliver on superior applications for radon abatement, energy efficiency and eco-friendliness," says Duzyk.
The Canadian Construction Materials Centre (CCMC) assesses compliance with Canadian building, energy and safety codes. They are the only construction code compliance service supported and operated by the Government of Canada. Trusted by over 6,000 regulators across Canada.
To learn more about Huntsman Building Solutions and the company's complete suite of energy efficient building solutions, visit https://huntsmanbuildingsolutions.com/en-CA/. Join the company on Twitter, LinkedIn, Facebook, Instagram and YouTube.
To learn more about radon protection, visit: https://huntsmanbuildingsolutions.com/en-CA/tech-library/radon
About Huntsman Building Solutions:
The Huntsman Building Solutions business is a global leader in high-performance, sustainable building envelope solutions. Its systems and solutions are widely utilized to optimize commercial and residential structures worldwide in both new construction and retrofit applications. Formed in 2020 with the acquisition of Icynene-Lapolla and its combination with Demilec, the Huntsman Building Solutions business capitalizes on legacy industry technologies, environmental stewardship, and the power of the Huntsman brand. For more information, visit huntsmanbuildingsolutions.com.
About Huntsman:
Huntsman Corporation is a publicly traded global manufacturer and marketer of differentiated and specialty chemicals with 2020 revenues of approximately $6 billion. Our chemical products number in the thousands and are sold worldwide to manufacturers serving a broad and diverse range of consumer and industrial end markets. We operate more than 70 manufacturing, R&D and operations facilities in approximately 30 countries and employ approximately 9,000 associates within our four distinct business divisions. For more information about Huntsman, please visit the company's website at www.huntsman.com.
For more information contact:
Audrey Moreno
For use by SprayFoamMagazine.com & Spray Foam Magazine

---
Disqus website name not provided.
Huntsman Building Solutions Recognized by CCMC