Huntsman Building Solutions Heatlok® Soya HP Enhances Performance For Contractors
Huntsman Building Solutions Heatlok® Soya HP Enhances Performance For Contractors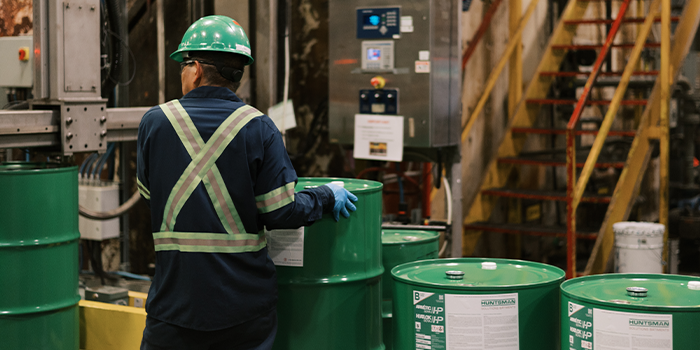 Boisbriand, QC – September 12, 2023 – Huntsman Building Solutions (HBS) has worked closely with spray foam contractors to develop and offer them a new closed-cell spray foam solution, Heatlok® Soya HP, which has the best R-value of any HFO product on the market with an LTTR value at 50mm of 2.06 RSI (R 11.68). Recognized for its ease of adhesion and superior insulation value, Heatlok® Soya HP leverages Honeywell's latest Solstice® Liquid Blowing Agent technology. This new hydrofluoroolefin (HFO) blowing agent is the most environmentally conscious produced to date, with zero-ozone depletion potential (ODP), and a global warming potential (GWP) less than 1.
"We worked closely with our applicators through several demos, in an effort to deliver a solution that has greater functionality and performance for their needs, and for their customers' comfort," said Jean-Francois Lupien, B.Sc. Global Director, Product Management from Huntsman Building Solutions. "The benefit of doing the demos together was to understand their pain points and deliver on a spray foam product that they are accustomed to using, but that provides an upgrade in the application process and the insulation value."
Made in Canada, this spray foam solution will help contractors gain a future business edge, by providing them with the following benefits:
An all-in-one product: insulation, air barrier, vapour barrier, & rain screen
Up to 8 inches can be sprayed in 1 day
High compressive strength 37psi
A solution that has total of 20% recycled plastic & renewable soya oil
Low VOC emission
GreenGuard Gold Certification
Resistance to fungus, mould & flood damage
Compatibility with most building products & usage in a variety of applications
A product that flawlessly seals the junction & joints of different materials
Reduced need for air and/or vapour barrier membranes
Full training and technical support; no third-party re-certification required
"We value the relationship that we have with contractors, so by joining forces we gained their insights as far as performance and ease of the application process," said David Cuddihee, Product Manager, Open Cell & Residential from Huntsman Building Solutions. "When we cooperate with our direct customers, we can tweak the solution to fit their exact needs and these little changes lead to big gains in value for them."
This latest version of Huntsman Building Solutions' Heatlok® Soya HP insulation system is an ideal solution for your residential and commercial projects. It can be used for a variety of applications: roofs, walls and sub-slabs. It is ideal for cathedral roofs where ventilation is sometimes difficult to obtain. This insulating product also minimizes the penetration of other pollutants, allergens and airborne irritants thus contributing to improved indoor air quality and increasing the comfort of your home while considerably reducing heating and cooling costs. 
To learn more about Huntsman Building Solutions and the company's complete suite of energy efficient building solutions, visit https://huntsmanbuildingsolutions.com/en-CA/. Join the company on Twitter, LinkedIn, Facebook, Instagram and YouTube.
About Huntsman Building Solutions:
The Huntsman Building Solutions business is a global leader in high-performance, sustainable building envelope solutions. Its systems and solutions are widely utilized to optimize commercial and residential structures worldwide in both new construction and retrofit applications. Formed in 2020 with the acquisition of Icynene-Lapolla and its combination with Demilec, the Huntsman Building Solutions business capitalizes on legacy industry technologies, environmental stewardship, and the power of the Huntsman brand. For more information, visit huntsmanbuildingsolutions.com.
About Huntsman:
Huntsman Corporation is a publicly traded global manufacturer and marketer of differentiated and specialty chemicals with 2020 revenues of approximately $6 billion. Our chemical products number in the thousands and are sold worldwide to manufacturers serving a broad and diverse range of consumer and industrial end markets. We operate more than 70 manufacturing, R&D and operations facilities in approximately 30 countries and employ approximately 9,000 associates within our four distinct business divisions. For more information about Huntsman, please visit the company's website at www.huntsman.com.
For use by SprayFoamMagazine.com & Spray Foam Magazine

Contact Details
Name: Lamia Chahboun
Email: Email Us
---
Disqus website name not provided.
Huntsman Building Solutions Heatlok® Soya HP Enhances Performance For Contractors