HMI Announces NEW DEEP Foam Injection Process "DEEP Foamjection"
HMI Announces NEW DEEP Foam Injection Process "DEEP Foamjection"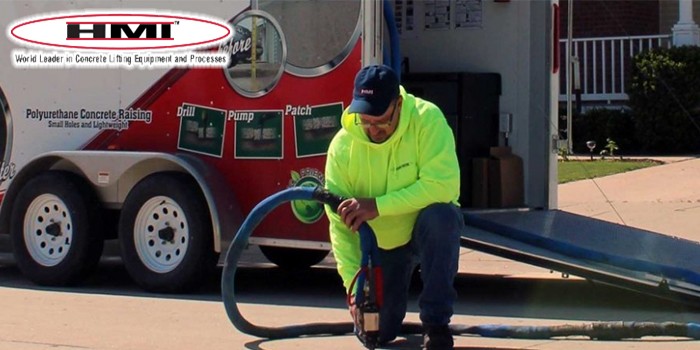 MANITOWOC, WI – November 28, 2017 – HMI, the world leader in development and manufacturing of concrete lifting processes and equipment has announced the upcoming release of a NEW polyurethane system of equipment, accessories and materials to allow contractors to support tilted structures and remediate problems created by subgrade soil issues.
When asked for comment, Jeff Cvetezar, HMI President, noted: "the new DEEP Foamjection System is an industry game changer. Now using HMI equipment, local contractors can support tilted structures, and remediate subgrade soil problems plaguing private residences, commercial buildings, railroads, mines, ports and more. Years of design and testing now have paid off as we soon will be training and supplying contractors with a package of equipment and specially formulated polyurethane foams to quickly and efficiently solve customer problems. We have always been able to manipulate slabs back into place, now this will give us the ability to fix the poor soil conditions that caused it to settle!"
The NEW "DEEP Foamjection System" is a package of equipment to include: injection pipes, push tools and injection points. This system was built around specially formulated HMI polyurethane Hydro Foam designed to solve problems of: voids, weak soils, improper compaction, ground water and more. The entire system can be operated by contractors equipped with HMI's polyurethane concrete lifting systems.
RELATED Dow Announces GREAT STUFF PRO™ Gasket, Specialty Products, Inc. Hosting Kickin' It in Texas Technology Demos, Dinner and Drinks at Dusk Event, Icynene to Acquire ISOLAT France, Increased ABAA QAP Education and Marketing Support

HMI predicts operators will dramatically increase their range of services, and profits when deploying the new equipment.
Brian Cvetezar, Exec VP Product Development and inventor of the new DEEP Foamjection System summarized the benefits. "DEEP Foamjection, like polyurethane concrete lifting, remains the most efficient, fastest and least obtrusive process to solve structural and settlement problems caused by weak/poor subgrade soil issues. Repairs are made in hours and days vs weeks and months at a fraction of the traditional costs."
HMI has been providing quality concrete lifting equipment and material to the market since 1974. Its customers and its own contracting division have performed hundreds of thousands of successful projects for: government, commercial entities and residential home owners. Insights gained for over four decades lifting and leveling airport runways, highways/roads, factory floors, driveways, walkways and more went into the development of "DEEP Foamjection."
Contact Details
Name: HMI Headquarters
Email: Email Us
Phone No: 1-800-626-2464
---
Disqus website name not provided.
HMI Announces NEW DEEP Foam Injection Process "DEEP Foamjection"