Fi-Foil Introduces New Thermal Barrier Blanket System for Icynene Spray Foam Insulation
Fi-Foil Introduces New Thermal Barrier Blanket System for Icynene Spray Foam Insulation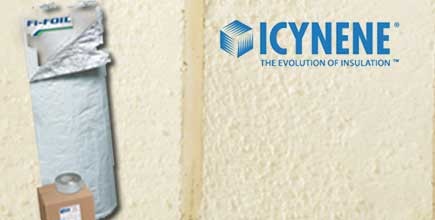 AUBURNDALE, FL – April 1, 2015 – Fi-Foil Company Inc., a reflective insulation, radiant barrier, and insulation system manufacturer, today announced the introduction of its new and unique Thermal Barrier Blanket (TBB) system which has been approved for installation, specifically over spray foam manufacturer Icynene's light density, open cell products - Icynene Classic and Icynene Classic Max.

Qualifying as an alternative thermal barrier, the TBB system successfully meets the criteria for NPFA 286. Today's building code requirements for Type I – IV commercial buildings specify that foam plastic insulation products applied to interior space exposed or adjacent to human occupancy, need to be covered with an approved thermal barrier. Gypsum wallboard is the most common thermal barrier installed today, typically covering the spray foam insulation installed between or over framing members in wall and roof systems. In recent years, alternative thermal barriers such as intumescent and thermal barrier coatings have been tested with specific products and approved for other interior applications, such as the underside of a residential or commercial roof deck.

Installed with a patented and proven clip and pin component, which has been used with other Fi-Foil products for insulation systems, the new TBB system offers an aesthetic upgrade over intumescent and thermal barrier spray-on thermal barrier coatings. Plus, the TBB system delivers 40% sound absorption when installed over 5.5 inches of Icynene Classic or Icynene Classic Max spray foam insulation. The system can also provide additional R-value from the TBB insulation, enclosed reflective air spaces, and low emittance air films.
"Our Thermal Barrier Blanket provides an entirely new alternative to conventional prescriptive and other alternative thermal barriers. The Strategic Alliance with Icynene and Fi-Foil, market leaders in spray foam and reflective insulation, respectively provides the market with a unique proposition. The TBB System not only provides the market with better aesthetics and sound performance, but assurance to the code official and building owner that they are getting the specification vs. thickness dependent spray applied coatings," said Bill Lippy, President of Fi-Foil.

"We are proud to partner with an industry leader like Fi-Foil to offer a high-performance thermal barrier alternative for use in commercial buildings. Our community of commercial spray foam contractors have been enthusiastic in learning about the performance advantages of Fi-Foil's TBB system and being able to offer it to their customers," said Randy Scott, VP and General Manager North America, Icynene.

The TBB product will be shipped and serviced directly from Fi-Foil's manufacturing facility in Auburndale, Florida. Additional information can be found online via the links provided below.
About Icynene: Established in 1986, Icynene helps to build energy efficient residential and commercial structures in over 31 countries worldwide. Our portfolio of industry leading light density open cell and medium density closed cell SPF solutions are both insulation and air barrier materials for improved indoor air quality and reduced energy costs making Icynene the smart choice for builders, architects, building owners, and homeowners. For more information, please use the contact information and link provided below.
About Fi-Foil: Fi-Foil is an industry leader for more than 30 years in innovative and energy-efficient reflective insulation, radiant barriers, and insulation systems for residential, commercial and agricultural applications. For more information, please use the link provided below.
Contact Details
Name: Anthony Naimo
Email: Email Us
Phone No: 855-878-9695
Disqus website name not provided.
Fi-Foil Introduces New Thermal Barrier Blanket System for Icynene Spray Foam Insulation