Elcometer Launches New Device to Measure Soluble Salts on Surfaces Significantly Faster
Elcometer Launches New Device to Measure Soluble Salts on Surfaces Significantly Faster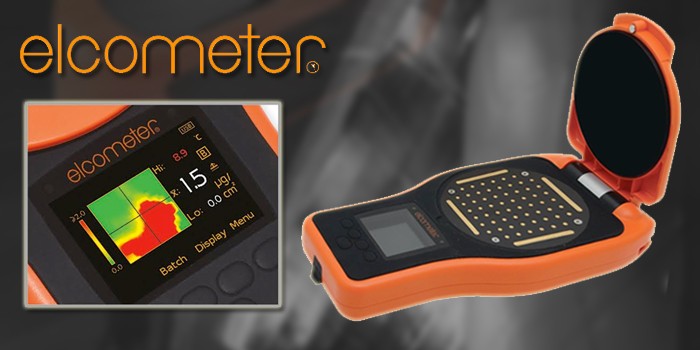 ROCHESTER HILLS, MI – March 29, 2016 – Measuring soluble salts is now more accurate, easier and faster than ever before thanks to the new Elcometer 130 SSP Soluble Salt Profiler. The Elcometer 130 SSP is a portable, hand-held gauge which accurately and reliably measures 4 Bresle equivalent readings in less than three minutes – more than four times faster than Bresle test methods.
Key features include:
Bresle (ISO 8502-9) equivalent readings
Four times faster than Bresle Patches
Displays the peak salt concentration – not just the average reading
Pass/fail maps and 2D & 3D salt density profiles provide visual indication of salt contamination
Store up to 3,500 sets of readings or transfer data via Bluetooth® or USB to ElcoMaster® for PC or mobile devices or your own inspection app for instant report generation
Rugged and reliable, ideal for use in the field or the laboratory
RELATED OSHA, Industrial Truck Association Renew Alliance to Reduce Hazards
Bresle Patch Equivalent
Side by side testing under laboratory conditions in accordance with ISO 8502-9, shows that the Elcometer 130 SSP Soluble Salt Profiler is equivalent to the Bresle Patch Method.
To view the full report visit http://www.elcometerusa.com/Establishing-Bresle-Patch-Equivalence-ISO8502-9-Method-for-Elcometer-130.html
About Elcometer: Elcometer is a leading manufacturer of high quality inspection equipment, with specialised divisions dedicated to coatings inspection, ultrasonic NDT inspection, concrete inspection and metal detection. For information on our full range of products visit www.elcometerusa.com
Contact Details
Name: Elcometer Limited
Email: Email Us
Phone No: (800) 521-0635
Disqus website name not provided.
Elcometer Launches New Device to Measure Soluble Salts on Surfaces Significantly Faster