Construction Segment Will Continue to Dominate the Global Bio-Based Polyurethane Market until 2020, Reports Technavio
Construction Segment Will Continue to Dominate the Global Bio-Based Polyurethane Market until 2020, Reports Technavio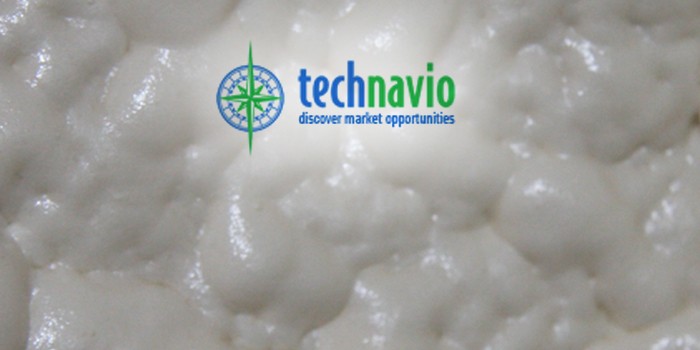 LONDON, ENGLAND – May 24, 2016 – According to the latest market study released by Technavio, the global bio-based polyurethane marketis expected to grow at a CAGR of close to 7 percent during the forecast period.
This research report titled 'Global Bio-based Polyurethane Market 2016-2020' provides an in-depth analysis of the market in terms of revenue and emerging market trends. This market research report also includes up to date analysis and forecasts for various market segments and all geographical regions.
Based on application, the report categorizes the global bio-based polyurethane market into the following:
Construction
Automotive
Electronics
Bedding and furniture
RELATED 3DR Announces Site Scan™ Aerial Analytics Platform, ACC Testifies Before Trade Commission on Importance of TPP to U.S. Chemicals Sector, Study Finds BIM Offers Substantial Benefits for Construction Industry
Global Bio-Based Polyurethane Market in Construction Segment
The construction industry was the largest end-user of bio-based polyurethane in 2015. The industry is growing extensively globally. The US and developing countries, including China and India will likely account for 60 percent of the global construction industry by 2025.
Rigid polyurethane foam is used in thermal insulation and other modern construction activities. These materials are comparatively thinner than other insulating materials such as fiber glass, increasing the living space. Therefore, the growth in the construction industry is expected to reflect an increase in the market's revenue share during the forecast period.
According to Chandrakumar Badala Jaganathan, a lead analyst at Technavio for the plastics, polymers, and elastomers sector, "Growing emphasis on green infrastructure to reduce energy consumption is anticipated to intensify during the forecast period. This factor along with the innovations in the construction industry and the development of advanced bio-based polymers is expected to propel the segment's growth."
Global Bio-Based Polyurethane Market in Automotive Segment
The market for bio-based polyurethanes in the automobile segment is expected to grow significantly during the forecast period. Polyurethane foams are used in automobiles for manufacturing vehicle fascias and their interior and exterior parts.
The global production of motor vehicles is estimated to increase to about 90 million in 2015 from 75 million in 2010. The increase in per capita income and the improvement in the living standards of people in developing countries are driving the market demand.
Bio-based polyurethane foam allows automobile designers and manufacturers to produce seating that can be easily assembled, disassembled, and recycled. It also offers maximum performance specifications over a wide range of firmness without adding extra weight. This means that the lifespan of bio-based polyurethane is much longer than conventional polyurethanes.
Global Bio-Based Polyurethane Market in Electronics Segment
High-density polyurethane foam insulation is used for minimizing heat loss. Bio-based polyurethane foams are widely used in the electronics industry, especially in refrigeration. Panels made of bio-based polyurethane foam provide 30-40 percent more insulation per given thickness than expanded polystyrene.
Refrigerators, coolers, heaters, and boilers use panels made of a polyurethane rigid foam core that offers insulation. In addition, insulation also increases energy efficiency as it prevents unwanted heat loss. Bio-based polyurethane also provides moisture resistance to help ensure long-term performance of the insulation in a refrigeration panel.
Global Bio-Based Polyurethane Market in Bedding and Furniture Segment
Earlier, manufacturers of bedding and furniture were reliant on petroleum-based polyols as the prime component for the production of flexible foam. However, the consistent, high-quality foam generated by bio-based polyols is leading to the elimination of non-renewable petroleum resources. These polyols also aid in reducing emissions and consequently global warming.
The constant rise in the global population is propelling the demand for bedding and furniture. The increase in the demand for luxury bedding and furniture is also on the rise due to the growth of production capacities of suppliers in emerging economies. These suppliers are also expanding rapidly to cater to the increasing demand from the domestic markets like Brazil and India.
The top vendors highlighted by Technavio's research analysts in this report are:
BASF
Cargill
Covestro
Dow Chemical
Lubrizol
About Technavio: Technavio is a leading global technology research and advisory company. The company develops over 2000 pieces of research every year, covering more than 500 technologies across 80 countries. Technavio has about 300 analysts globally who specialize in customized consulting and business research assignments across the latest leading edge technologies. Technavio analysts employ primary as well as secondary research techniques to ascertain the size and vendor landscape in a range of markets. Analysts obtain information using a combination of bottom-up and top-down approaches, besides using in-house market modeling tools and proprietary databases. They corroborate this data with the data obtained from various market participants and stakeholders across the value chain, including vendors, service providers, distributors, re-sellers, and end-users.
Contact Details
Name: Jesse Maida
Email: Email Us
Phone No: 630-333-9501
Disqus website name not provided.
Construction Segment Will Continue to Dominate the Global Bio-Based Polyurethane Market until 2020, Reports Technavio