Construction Industry is Split Across a Safety Culture Spectrum, Study Says
Construction Industry is Split Across a Safety Culture Spectrum, Study Says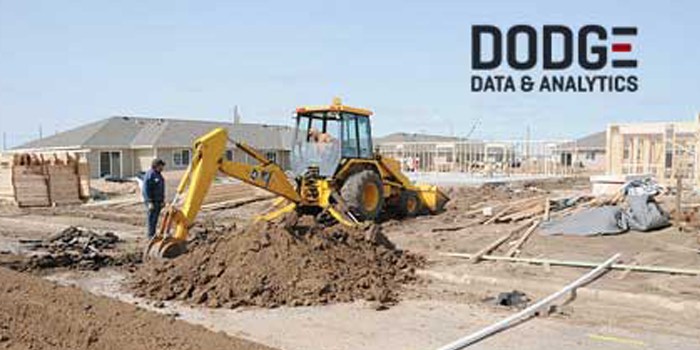 NEW YORK, NY – April 21, 2016 – A new study from Dodge Data & Analytics establishes a safety culture spectrum based on the performance of 254 U.S. contractors on 33 leading indicators of a safety culture. The new Building a Safety Culture SmartMarket Report, available for free download at http://analyticsstore.construction.com/smartmarket-reports/Safety2016.html and produced in partnership with CPWR (The Center for Construction Research and Training) and United Rentals, along with 12 other supporting and contributing organizations, examines the wider use of safety management practices in the construction industry and more frequently achieved benefits for contractors at the high end of the safety culture spectrum compared to those at the low end. The contrast of the findings of the current study with a previous safety study conducted by Dodge Data & Analytics in 2012 also reveals that contractors are reporting more benefits from their investments in safety management practices in general and that there is wider recognition of the importance of actively engaging jobsite workers to improve project safety.
Currently, across the construction industry, nearly one-third (32%) of contractors fall in the high end of the safety culture spectrum, based on their level of use of the 33 leading indicators; over one-third (35%) are in the moderate level and exactly one-third (33%) are at the low end of the spectrum. Many more companies at the high end of the spectrum report impressive business benefits resulting from their safety investments than those at the low end, including:
Improved Project Quality (88% at the high end versus 56% on the low end)
Increased Project ROI (75% at the high end versus 38% at the low end)
Improved Staff Retention (79% versus 45%)
Greater Ability to Attract New Staff (67% versus 27%)
In the current market, the ability to attract and retain staff is becoming increasingly important for companies to stay competitive, while project quality contributes directly to client satisfaction and increased project ROI is a strong business benefit. "The findings make a strong case for companies to actively nurture a strong safety culture at their organization," says Stephen Jones, Senior Director of Industry Insights Research at Dodge Data & Analytics. "The leading indicators featured in the report also provide a roadmap that companies can use to improve the safety culture at their companies, in areas like management commitment to safety, embracing safety as a fundamental company value and worker involvement in jobsite safety."
RELATED Wedge Roofing Awarded for High-Tech Spray Foam Roofing Project, New Study Suggests Strong Outlook for Green Homes, Dodge Momentum Index Rebounds in July
In addition, a comparison of the findings in the current study to the one conducted in 2012 reveals much better performance in several areas. For example, the percentage of contractors who find that safety investments increased their ability to contract new work increased 10 percentage points from the previous study to 76%, a strong business benefit. The same jump occurred in the percentage that had reduced reportable injuries (81%). The most striking leap was among those who find that their safety investments increase their ability to retain staff, which was up 18 percentage points to 64%.
"Strong majorities of the respondents indicated that they have adopted sound occupational safety and health practices in order to reduce liability concerns and avoid potential business disruptions," remarks Pete Stafford, Executive Director at CPWR. "But it's especially pleasing to see that in 2015 -- as in 2012 -- the leading driver for continuous improvement was concern for their workers' well-being."
Several report findings point to an important shift in the construction industry since 2012 in the recognition of the importance of the role jobsite workers play in increasing project safety.
The most telling is that jobsite worker involvement is now the most widely recognized aspect of a world-class safety program, selected by 85%, a leap up of 19 percentage points above the 2012 findings.
The highest percentage (64%) also ranks jobsite workers as one of the three most influential roles for improving safety.
Jobsite workers are also now the role considered most impacted by safety training, a shift from second place in 2012.
James A. Dorris, Vice President - Environmental, Health & Safety at United Rentals, believes this finding demonstrates the shift in the construction industry to looking at safety as a value, rather than as a priority. "The significance in the shift of how jobsite worker involvement is seen underscores our need to make safety value-driven and personal. When workers are made a part of the process and are provided the tools and training they need to succeed, safety becomes recognized as the one thing that sets them -- and the company they work for -- apart from others. It's what makes them world-class."
Other top findings in the Building a Safety Culture SmartMarket Report include the most widely used indicators of a safety culture in the industry; the most effective safety practices and trends in safety training, including online training; and the most effective means of
About Dodge Data & Analytics: Dodge Data & Analytics is the leading provider of data, analytics, news and intelligence serving the North American construction industry. The company's information enables building product manufacturers, general contractors and subcontractors, architects and engineers to size markets, prioritize prospects, target and build relationships, strengthen market positions, and optimize sales strategies. The company's brands include Dodge, Dodge MarketShareTM, Dodge BuildShare®, Dodge SpecShare®, Sweets, and ConstructionPoints. To learn more, visit www.construction.com.
Contact Details
Name: Susan Peterson
Email: Email Us
Phone No: 1-347-523-4570
Disqus website name not provided.
Construction Industry is Split Across a Safety Culture Spectrum, Study Says