Checking in with Joe & Slade
Checking in with Joe & Slade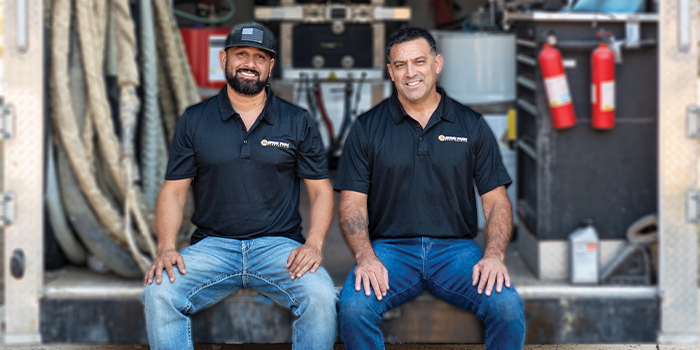 SPRAY FOAM MAGAZINE – How are the winners of the Contractor of the Year 2022 advancing after their front cover feature was released in the magazine's Winter Issue 2022? Between their hectic schedule, Slade Foster and Joe Davila, owners of High Caliber Spray Foam Specialists, LLC shared a few words about what the response was like following their big win.
What was the feedback you received after you were on the cover of Spray Foam Magazine?
The feedback was overwhelmingly positive. We oftentimes have custom builders ask for references and when we point them to this article it is instant credibility for us. In virtually every case, the builder is satisfied and no longer requires additional references. In other instances, potential customers have searched our company on the web and found the article. I think Spray Foam Magazine accurately captured how much we care about our reputation and our integrity – customers absolutely appreciate that.
Do you feel winning Contractor of the Year and the article has helped your business?
We have landed multiple jobs across both residential and commercial projects due to the article. We had large posters created and used them on an easel at a builder's convention in Austin. It was an impressive display. In fact, we had a pile of magazines on the table as well, which essentially served as an advertising brochure for us.
Have you utilized any of the equipment you received from our sponsors?
If so, have there been any that made you switch from a previously used brand or that you were greatly impressed with? We were sent some fresh air systems from Bullard that included a dedicated pump, line, and special masks. During the cooler winter months, our crews were fine up in attics doing retrofits or in a metal building as the Texas sun was not blazing yet. As we have hit the latest heat wave, which gave way to summer here in Texas, our crew has gone back to using the Bullard systems. Before, we would only allow a crewmember to be on the gun in an attic for 10-15 minutes tops due to the heat exhaustion danger. These Bullard systems have completely changed that. The constant cool air supply allows them to work in a hot attic for up to 30 minutes. They are truly a game changer for us in this Texas heat.
Have you had any recent changes or updates to your company?
We have continued a rapid growth trajectory and now have a second rig with a full crew that is 100 percent booked out.
What shape would you like to see your business take in the future?
We are constantly looking for ways to scale our business in healthy and sustainable ways. There is more in terms of logistics automation we can do, as well as apply a more critical eye to our supply chain to see where we can save. All data points to the acquisition of a third rig soon.
What factors are impacting your business at this time and how so?
Central Texas continues to ride a wave of growth which shows no signs of abating, even in the face of some trepidation about the economy. Interest rates have likely slowed things a bit, but it is hard to notice when we are as busy as we have been. We have some competition in our area, but we are established now with a solid reputation. We have negotiated some aggressive raw materials contracts that have helped us win numerous large commercial deals on the strength of our bid prices.
Have you had a recent job that has stood out to you?
We were recently called out to a private airport to put closed-cell in a homeowner's hangar, which was then painted a beautiful white and grey. Our fully wrapped rigs were on site for two days and it seems as though a lot of pilots with private hangars saw our mobile billboard. We have landed several other similar jobs. Apparently no one wants to be left out in making their hangar more comfortable in the Texas heat!
Is there anything else you would like to add?
We are extremely thankful for the Contractor of the Year nomination which resulted in the magazine article. Spray Foam Magazine took the time to capture our personalities and the culture of our business, which is important to us. Trust takes a long time to build and can be damaged in an instant. When potential customers read the article, it gives us a leg up right out of the gate. We want to continue to build on the shot of momentum we gained from the article.
After whittling down hundreds of entries, there was a shortlist of contractors that are inspirational, innovative, and outstanding in both their work and attitude. There are many skilled spray foam contractors out there so making the final decision was a tough one. However, taking in all factors High Caliber Spray Foam Specialists made that front cover. And believe it or not, it's that time of year again! Spray Foam Magazine is looking for the next spray foam contractor to feature on the cover of an upcoming issue. If you, or someone you know, is an outstanding contractor, enter for the Contractor of the Year 2023 search. Like High Caliber Spray Foam Specialists, you can receive industry recognition and your photo on the front cover of the publication, in addition to receiving some amazing giveaways from generous SPF industry suppliers.
For use by SprayFoamMagazine.com & Spray Foam Magazine

Disqus website name not provided.
You May Also Like
Checking in with Joe & Slade