Building High-Performance Homes for a Lifetime of Value
Building High-Performance Homes for a Lifetime of Value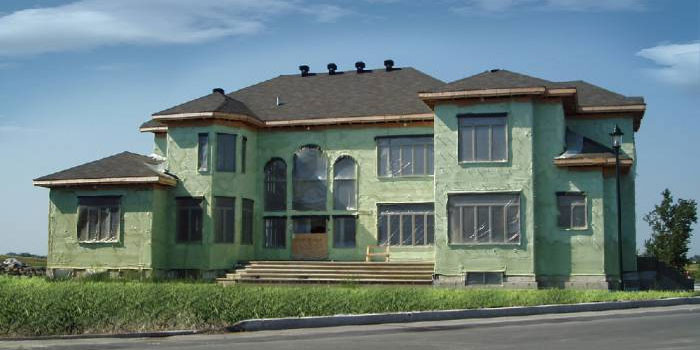 ARLINGTON, TX – April 22, 2020 – When prospective homeowners consider the cost of their new purchases, they're not just thinking about their mortgage or insurance payments. Today's homebuyers are also factoring in the costs of operating their home.
According to the National Association of Realtors, a whopping 35% of new homebuyers cite heating and cooling costs as the most important environmental features. The association's 2020 Home Buyers and Sellers Generational Trends Report shows that millennials (age 24 through 39) make up the majority of new homebuyers who consider heating and cooling costs to be a "very important" factor in their purchase.

David Dietrich, National Manager - Residential Builder Segment at Demilec, said modern buyers want affordable, energy-efficient homes that are more comfortable and healthier than standard residences.
Spray foam insulation – once considered cost-prohibitive for the average homebuyer – hits all the marks, Dietrich said. Builders realize that high-performance homes are within reach for everyone thanks to spray foam insulation technology, he said. "There's something different about walking into a home that has spray foam insulation," Dietrich said. "It feels cleaner and quieter, and the temperature throughout the house is more consistent."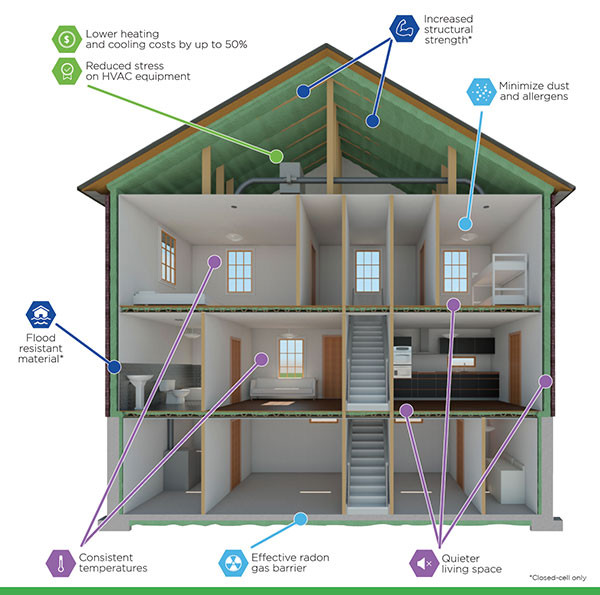 Increasingly, New Homebuyers Cite Heating and Cooling Costs as The Most Important Environmental Features
Provided by Demilec
Success Markers in High-Performance Homes

Dietrich said high-performance homes have four main features and spray foam insulation provides numerous benefits:

High-Performance Home Feature: Comfort
Spray Foam Insulation Benefits: Spray foam insulation in a building envelope makes homes feel more comfortable by reducing drafts and temperature variations. Spray foam also allows home heating and cooling units to work more efficiently and use less energy, so homes stay cooler in the summer and warmer in the winter.
High-Performance Home Feature: Health
Spray Foam Insulation Benefits: Spray foam insulation helps improve home air quality by sealing air leaks and drafts. The seals minimize dust, germs, airborne allergens and pollution infiltration. Spray foam insulation can be applied throughout a home or used to seal select living spaces, garages and crawl spaces, in addition to other areas. Closed-cell spray foam also protects against water intrusion, which can lead to mold and mildew growth.
High-Performance Home Feature: Durability
Spray Foam Insulation Benefits: Once installed, spray foam insulation lasts for the life of a building. To prove that, Demilec spray foam insulation offers a limited lifetime warranty. It also provides higher racking strength than traditional insulation, improving structural integrity in walls and wind uplift resistance in unvented attics. In addition, the Federal Emergency Management Agency (FEMA) classifies closed-cell spray foam insulation as highly resistant to flood damage (class 5).
High-Performance Home Feature: Efficiency
Spray Foam Insulation Benefits: Spray foam insulation reduces heating and cooling expenses up to 50% and decreases the workload on HVAC systems, as proven in a test conducted by CPS Energy in San Antonio, TX, that compared three comparably built houses insulated with different methods. It also allows consumers to get more house for their money,
"Highly efficient walls and roofs may allow heating and cooling equipment to be downsized by as much as 35 percent. This may translate into more floor space for the same total price," the Center for the Polyurethanes Industry said.

In addition, spray foam insulation provides sustainable benefits, exceeding building energy codes and net-zero energy construction goals. It also offers a higher R-value per inch over traditional insulation such as fiberglass. Take, for example, The New American Home (TNAH) 2020 – a showcase home that was designed and built to meet National Green Building Standard "Emerald" level certification, Energy Star and net-zero status.

Savings in Sustainable Building

Builders of TNAH – a 7,683-square-foot home in the Las Vegas suburb of Henderson – used Demilec's Sealection® 500 in all standard wall cavities and roof deck undersides.

Sealection 500 – an open-cell, spray foam insulation – contains no CFCs, HCFCs or global warming potential (GWP) blowing agents and is effective after a single application. In the show home, the result was a tight air seal that created an R-value of 3.81 at 1 inch, minimized outside noise and reduced dust and allergens. Overall, the energy-savings features in the home are projected to provide 122% more efficiency than average new builds, or $7,050 annual savings in energy costs.

Dietrich said builders realize that potential homeowners want to see those savings in their pocketbooks. While the cost of spray foam insulation may be higher than traditional insulation at the outset, the long-term value is substantial. By using spray foam insulation, builders and designers can pass the savings on to the buyer by:

Downsizing the HVAC equipment in the home
Eliminating the use of energy trusses
Eliminating the use of radiant barriers
Replacing 2x6s with 2x4s
Reducing materials and labor costs
"Spray foam insulation works tirelessly behind the scenes while helping create a more comfortable, durable and efficient home," Dietrich said. "It is definitely the best choice when it comes to insulation"
Contact Details
Name: David Dietrich, National Manager - Residential Builder Segment
Email: Email Us
Phone No: 855-400-6895
---
Disqus website name not provided.
Building High-Performance Homes for a Lifetime of Value