Tenex Capital Management Invests in SES Foam, LLC
Tenex Capital Management Invests in SES Foam, LLC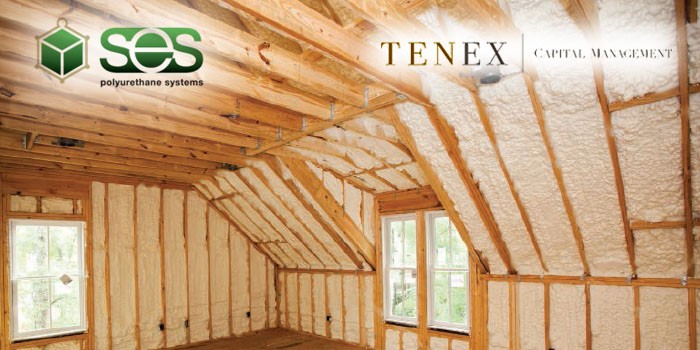 NEW YORK, NY
– September 29, 2016 – Tenex Capital Management announced it has completed an investment transaction in SES Foam LLC of Houston, TX, effective on September 9, 2016.
SES is a fast-growing manufacturer and marketer of high-quality polyurethane Spray Foam Insulation for the North American residential construction industry. SES proprietary open and closed cell wall foam products are currently used by a select number of authorized insulation contractors in various regions of the U.S. The company also produces and markets roofing foam.
SES patent-pending SucraSeal Open Cell insulation provides exceptional yields. With spray foam averaging up to 60 percent of the cost of goods for contractors on a job, higher yields equate to greater profitability for contractors. SucraSeal offers significant fire resistance without the need for or cost of additional coatings that many spray foams require to satisfy building codes. In addition, it offers high R-values and minimal air permeability (a factor that when high can reduce the effectiveness of insulation options). Besides the groundbreaking SucraSeal, SES offers closed cell foam that also features larger yields compared to industry standards.
Beyond offering superior products and yields, SES stands out in the spray foam insulation industry as a provider of an unparalleled level of customer training and contractor support. SES value-added services for contractors include onsite technical instruction, better business practice consultation, marketing and branding support, and lead generation tools. These services also contribute to higher yields and contractor profitability.
RELATED Gaco Western's GacoProFill® Achieves 1-Hour Re-Entry for Trades, Volatile Free, Inc. Announces New Drone Video Featuring Spray Foam and Silicone Roofing Products, Honeywell Challenges Spray Polyurethane Foam Insulation Contractors and Builders To "Hit a Foam Run", Lapolla Industries Introduces FOAM-LOK™ FLX 500-EM Spray Polyurethane Foam for Insulation Applications
Mike Green, CEO and Managing Director of Tenex, states, "As building codes across the country continue to require more energy-efficient building envelopes, spray foam insulation's technical features will provide enhanced solutions over traditional materials. SES is well-positioned to capitalize on that trend with its products and services for contractors."
SES joins the Tenex portfolio that already includes GreenFiber, the largest manufacturer and marketer of cellulose insulation products—all made with a targeted minimum of 85 percent recycled paper fibers. SES and GreenFiber, with their combined set of products, offer a strong platform of insulation solutions to meet the growing need for better performing alternatives to fiberglass insulation.
"Directly assisting our contractor partners is a very important part of our business model and their success," states Charles Valentine, President of SES. "With backing from Tenex and the broad geographic footprint of our new partner GreenFiber, we will be able to more quickly deepen the level of service we already provide to our growing base of highly loyal contractors. In addition, we will be able to roll out our combination of superior products and outstanding services to a wider set of leading contractors outside of Texas and the Southeastern U.S. This is a win-win for our current and future customers."
About Tenex: Tenex Capital Management is a private equity firm that invests in middle-market companies. Tenex utilizes an in-house team of hybrid investment professionals skilled in operational leadership, investing, and capital markets structuring to maximize long-term value creation. Tenex's deep operating experience allows the firm to collaborate with management teams to capitalize on business and market opportunities. Tenex has established a successful track record investing in diverse industries, including industrials, manufacturing, and health and business services. http://www.tenexcm.com
About SES: Founded in 2010, SES Foam LLC is a manufacturer and marketer of high-quality polyurethane spray foam insulation. The company is headquartered in Houston, TX. http://www.sesfoam.com
About GreenFiber: Established in 2000 and headquartered in Charlotte, NC, GreenFiber is the largest manufacturer of cellulose insulation products. GreenFiber serves customers from 10 manufacturing facilities throughout the U.S. and Canada.
http://www.greenfiber.com
---
Disqus website name not provided.
Tenex Capital Management Invests in SES Foam, LLC