Icynene Launches Technical Services Support Mobile Application
Icynene Launches Technical Services Support Mobile Application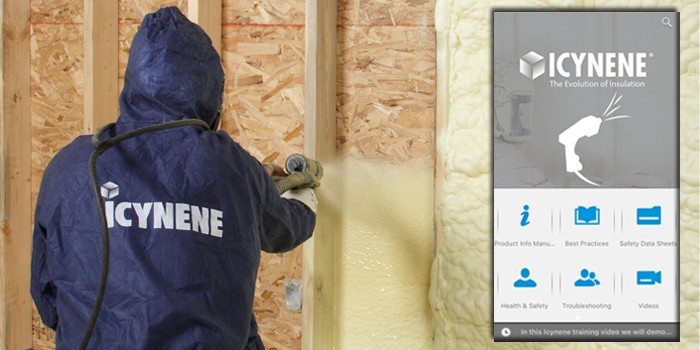 MISSISSAUGA, ON– April 29, 2016 – Leading spray foam insulation manufacturer, Icynene, announced the launch of a new mobile application designed to provide preliminary technical services support to its growing network of licensed installers across the United States.
The Icynene Technical Support App allows licensed Icynene spray foam contractors to access important technical documentation, videos, and calculators while on a jobsite. Users have the ability to access product information manuals, health & safety information, Safety Data Sheets, equipment troubleshooting manuals, application tips as well as view installation training videos. The new app also features three on-site calculators – Yield, Ventilation and Density - designed to help streamline planning, set-up and application.
The app demonstrates Icynene's commitment to best practices for the correct and safe application of spray foam insulation and its evolution of the insulation category.
RELATED Covestro Products Spur Solar Impulse Mission, Spray Polyurethane Foam Insulation Can Help Turn Your House into a Home this Spring , Demilec Becomes a Global Sponsor for SprayFoam.com
"The new Icynene Technical Support App complements Icynene's technical services support, giving users access to the key information they need. By placing this information at their fingertips, our licensed spray foam installers are able to optimize their time while on a jobsite as well as be able to access the right documentation they need to get the spray foam application done correctly, efficiently and safely," said Randy Scott, Vice President and General Manager of North America for Icynene.
The free app is suitable for Android and Apple mobile devices and is available for download on the Google Play Store under "Icynene Apps" as well as Apple's App Store.
About Icynene: Established in 1986, Icynene helps to build energy efficient residential and commercial structures in over 31 countries worldwide. Our portfolio of industry leading light density open cell and medium density closed cell SPF solutions are both insulation and air barrier materials for improved indoor air quality and reduced energy costs making Icynene the smart choice for builders, architects, building owners, and homeowners.
Contact Details
Name: Icynene Marketing Communications
Email: Email Us
Phone No: 855-622-7070
Disqus website name not provided.
Icynene Launches Technical Services Support Mobile Application