Demilec Showcases Latest Innovations at 2016 Greenbuild Expo
Demilec Showcases Latest Innovations at 2016 Greenbuild Expo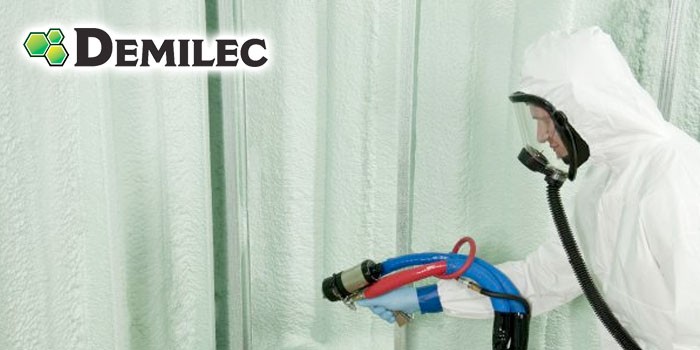 ARLINGTON, TX – September 28, 2016 – Demilec, one of North America's largest manufacturers of spray foam insulation and polyurea products, will exhibit its latest innovations at the 2016 Greenbuild International Conference and Expo (booth #2617). The booth will showcase Heatlok High Lift, closed-cell spray foam insulation that is comprised of 22 percent renewable and recycled content, and Sealection 500 open-cell spray foam insulation, now approved through third-party testing for use in unvented attics without an ignition barrier.
"We seek to improve the efficiency of the building envelope by leveraging our proprietary sustainable polyols," said Douglas Brady, Vice President of Strategic Marketing at Demilec. "Our company is committed to developing and producing high-performing, environmentally responsible products, allowing architects to qualify for up to 10 LEED certification points. In addition to earning green building credits, various Demilec products bring next-generation value and performance to today's forward-thinking architects. Demilec spray foam offers superior performance, versatility and value to architects who are addressing today's environmental challenges in their designs."
RELATED Lapolla Industries Supports Amendment to Montreal Protocol, ICP Adhesives & Sealants, Inc. to Introduce New Handi-Foam® High Density Product at Polyurethane Technical Conference, Covestro Provides Closed-Cell Spray Foam for Arc House, When It Comes To Spray Foam, Certification Matters
With an established focus on sustainability, Demilec's recycling program launched in 2004 has recycled more than 360 million plastic bottles into its Heatlok family of closed-cell insulation products. Because of this achievement, Demilec received the 2015 Innovation in Plastics Recycling Award by the American Chemistry Council, America's oldest chemistry trade association made up of companies committed to sustainable products that improve lives and the environment.
For more information and/or to download images of the following featured products, please visit http://www.coopersmithagency.com/demilec-press-kit/.
PRODUCTS SHOWCASED AT BOOTH #2617
Closed-Cell Spray Foam Products
Heatlok High Lift
Heatlok High Lift is the newest version of the manufacturer's best-selling Heatlok XT. Comprised of 22 percent renewable and recycled content, the enhanced product significantly increases sprayability by allowing up to four inches of foam to be applied in one pass, saving time and reducing the need to have multiple passes to achieve the required insulation thickness or R-value set by the building code.
Open-Cell Spray Foam Products
Sealection 500
Sealection 500 is now approved through third-party testing for use in unvented attics without an ignition barrier, eliminating the need for contractors to add a secondary ignition barrier in those applications. The product is engineered with increased energy efficiency, cutting heating and cooling costs as much as 50 percent for property owners. This high-performing product also increases sustainability for residents and occupants by withholding ozone-depleting chemicals like gases, fibers and asbestos.
About Demilec: Demilec has been recognized as an industry leader in using innovative technology and advanced science to create a line of open-cell and closed-cell spray foam insulation and coatings for more than 33 years. Demilec focuses on meeting market demands for more energy-efficient products and serves a range of industries, including industrial, residential, commercial, agricultural, original equipment manufacturer, education, water, oil & gas, energy, military and civil. For more information, visit demilec.com.

Contact Details
Name: Maggie Montgomery
Email: Email Us
Disqus website name not provided.
Demilec Showcases Latest Innovations at 2016 Greenbuild Expo