ENERTITE® Open-cell SPF – BASF Corporation
ENERTITE® Open-cell SPF – BASF Corporation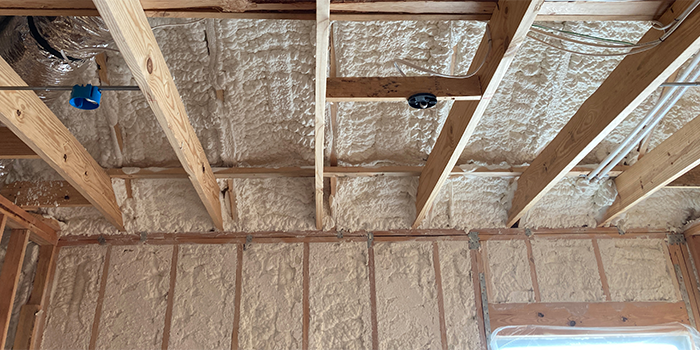 ENERTITE® Open-cell SPF – BASF Corporation
The ENERTITE® Series products are low-density open-cell spray foam insulations designed to provide the greatest efficiency, coverage, and sprayability for the applicator. For residential or commercial use, BASF ENERTITE provides a variety of advantages to help you maximize performance, meet various building codes and simplify the installation process.
The BASF ENERTITE Series includes the following formulation offerings:
ENERTITE G – a no-mix resin system with a wide processing window and Unvented Attic (UVA) assembly approvals for no ignition barrier applications
ENERTITE Max – a high-efficiency, high-yield formula with lower densities to maximize coverage, also with UVA approval and simplified preparation & processing
ENERTITE X – the newest addition to the BASF open-cell portfolio with superior sprayability in a biobased chemistry solution, offering Appendix X compliance with no ignition barrier coating required for limited-access attics and crawlspaces
ENERTITE Series Performance Features and Benefits:

Faster reactivity - less dripping from overhead applications
Easy overspray removal – simplifies job cleanup
Consistent, high coverage rates
Easy sprayability in a wide processing window
Reduced setup and processing times
ENERTITE X eliminates the need for special attic access or configuration
ENERTITE Series Product Credentials and Qualifications:
Superior R-values
GREENGUARD Gold Certification – low-VOC materials
Fast re-entry times
UL fire-resistance-rated and NFPA 285-complying commercial assemblies
Comprehensive code compliance reports
Visit us online or contact a BASF territory manager to learn which ENERTITE product will help your spray foam business simplify while maximizing coverage and productivity.
Contact Details
Name: Meredith Getty
---
ENERTITE® Open-cell SPF – BASF Corporation