Sprayfoam 2016 Announces Keynote Speaker Richard Rawlings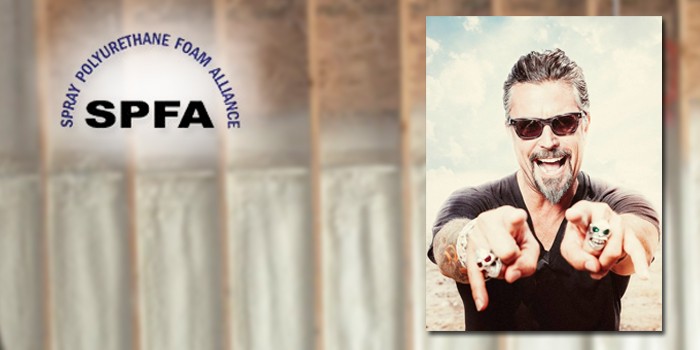 FAIRFAX, VA – December 10, 2015 – The Spray Polyurethane Foam Alliance (SPFA), the educational and technical resource to the spray polyurethane foam (SPF) industry, today announced that motor mastermind and host of Discovery Channel's Fast N' Loud Richard Rawlings has been secured as the keynote speaker for the Sprayfoam 2016 Convention and Expo. To be held February 8-11 in Orlando, the official national convention of the Spray Polyurethane Foam industry will feature four days of educational sessions, a 35,000-square-foot exhibit hall, awards, professional certification programs, annual golf tournament, and many other special events and features.
As co-host of Fast N' Loud, Richard Rawlings searches Texas and the surrounding states for forgotten and derelict classic cars to purchase and restore at his famous Gas Monkey Garage in Dallas. Rawlings developed a passion for cars at an early age buying his first, a green 1974 Mercury Comet, when he was just 14. He has held several jobs – firefighter, police officer and paramedic – all before the age of 21, and eventually started his own business, building a printing and advertising company from the ground up. He later sold this company to fund his current Gas Monkey Garage venture – a world-renowned hot rod shop producing and shipping cars for people worldwide, a restaurant business and even a tequila brand. A veteran of transcontinental road rallies, Rawlings won the Gumball 3000 and Bullron – twice. He is the current world record holder in the Cannonball Run.
Richard Rawlings will deliver the Sprayfoam 2016 official keynote on February 10 at 9am. "We really are excited about Richard speaking with our group," said Kurt Riesenberg, executive director of the Spray Polyurethane Foam Alliance. "Quite simply the guy has one of the coolest jobs going. He's hustled his whole life and built these great businesses, deals with all the same challenges of any small business and he does it with a camera in his face all year. He's an inspiring business story and a fascinating character that I believe will connect with our group in ways that will surprise them."
During his keynote, Rawlings will likely speak about his businesses, challenges, opportunities, taking risks and pursuing one's dreams with the discipline and persistence that is required for success. Rawlings will utilize any remaining time to answer audience questions about his life, the show, his business or even the building of hot rods.
"As a successful American entrepreneur, expert motor enthusiast and TV personality, Richard Rawlings is a huge draw for the attendees of Sprayfoam 2016," said Denny Vanderwater, chairman of the SPFA and president of Sadler Coating Systems in Eagle Grove, Iowa. "We are expecting him to pack the house and for this to be our biggest convention to date."
Sprayfoam 2016 will be held at the Rosen Centre Hotel in Orlando. With an expected attendance surpassing 1,200 individuals active in all aspects of the Spray Polyurethane Foam value chain and the public, the Sprayfoam 2016 event agenda will feature: a sold-out exhibit hall showcasing booth displays from over 90 industry organizations, manufacturers, contractors, equipment providers, and many others; the full suite of SPFA Professional Certification Program classes and testing; a multi-day educational program including over 30 breakout industry expert panel sessions; the 11th Annual Industry Excellence Awards and Ceremony, highlighting true innovation and excellence in the nation's best SPF projects; SPFA Annual Member Awards, honoring members who have demonstrated significant dedication to the betterment of the organization and the industry at-large; the Annual Golf Tournament; the Women's Leadership in Spray Foam Networking Reception; VIP events; member and contractor-only events, and an entertainment-filled Close-Out Event Reception and Networking Party.
The SPFA will offer Professional Certification Program testing onsite at Sprayfoam 2016 on February 8 and 9. Testing will be administered to individuals active in the installation of SPF in roofing and insulation, as well as to contractor and supplier companies, with the ability to gain professional accreditation on-site. Testing is offered as part of the internationally recognized, only-one-of-its-kind program built to advocate best practices and safety in the installation of SPF. The standards-driven program is ISO 17024 compliant and was developed by committees of industry stakeholders, in collaboration with OSHA, NIOSH and the EPA.
"It is becoming clear that certification is of paramount importance as our industry increases in sophistication," said Vandewater. "With customers increasingly likely to request credentials when vetting installers, contractors and suppliers, the importance in having those credentials is also increasing. We will offer testing onsite at Sprayfoam 2016 to accommodate this growing demand."
Premier Sponsors of Sprayfoam 2016 include: CertainTeed, Gaco Western, Graco, Honeywell, Lapolla, NCFI Polyurethanes, Spray Foam Polymers, and Sprayfoam.com. Premier Media Sponsors include Sprayfoam Professional (the official publication of the Sprayfoam 2016 event), Walls & Ceilings, Architectural Roofing & Waterproofing/Walls & Ceilings Architect, and Roofing Contractor magazines. To inquire about event sponsorship, please contact Emma Bennett at emma@sprayfoam.org. Program, hotel and additional information is available at the SPFA website www.sprayfoam.org.
RELATED Graco Introduces Reactor® A-XP1 Plural-Component Sprayer, BPI Sponsors 16-City Proof is Possible Tour, Touch 'n Seal Reveals the Robust Capabilities of One-Component Foam Sealants, Plastics Make It Possible® Unveils New "Tiny House" That's Big On Energy Efficiency At The California Science Center , Icynene Europe Re-aligns Business Focus Within Benelux, Honeywell Discusses the Fundamentals of Blowing Agents

About Spray Polyurethane Foam Alliance (SPFA): Founded in 1987, the Spray Polyurethane Foam Alliance (SPFA) is the voice, and educational and technical resource, for the spray polyurethane foam industry. The Alliance is a 501(c)6 trade association composed of contractors, manufacturers, and distributors of polyurethane foam, related equipment, and protective coatings, inspections, surface preparations, and other services. The organization supports the best practices and the growth of the industry through a number of core initiatives, which include educational programs and events, the SPFA Professional Certification Program, technical literature and guidelines, legislative advocacy, research and networking opportunities.

Contact Details
Name: Julie Fornaro
Email: Email Us
Phone No: 855-529-0020
---
Disqus website name not provided.