Spray Foam Equipment Manufacturer Makes Waves
Spray Foam Equipment Manufacturer Makes Waves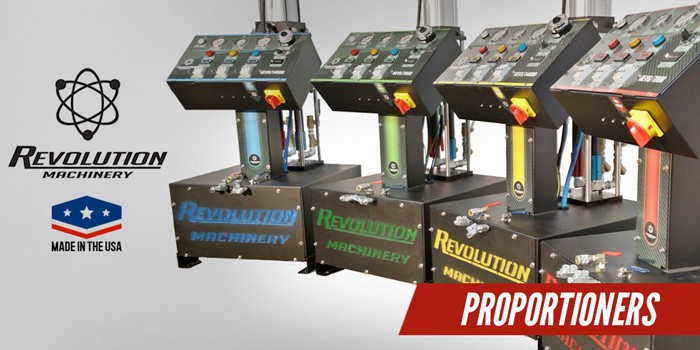 BUFFALO, NY – July 17, 2015 – Since proportioning machines are a necessity when it comes to the SPF industry, life can certainly be made easier for contractors if they opt for a proportioner that combines user-friendliness and high performance when working in the field. This is precisely what Revolution Machinery provides.
Revolution Machinery has one goal in mind: to be the alternative option to the status quo of SPF equipment in the industry. To do so, Revolution operates a 30,000 sq. ft. manufacturing facility with workers dedicated to the engineering of essential, easy-to-use SPF equipment. By combining the equipment with outstanding customer satisfaction, Revolution continues to expand on their presence within the SPF market.
Chief among Revolution Machinery's products is their pneumatically powered plural-component proportioners that are utilized in spray foam and coating applications. During the manufacturing process, Revolution aimed to create a dependable machine that is simple to use and one that mitigates downtime during applications.
"We set out to build efficient machines characterized by a medium between simplicity and dependability," said Revolution's Timothy Nick. "We wanted to be the company that takes the complexity out of other spray polyurethane foam machine and get people to spray foam with easy-to-use machines. You could say we are the John Deere tractor company of the spray foam industry."
Revolution's proportioners come in six different models based on three primary designs: the Revolution Machinery 5/7, the Revolution 5/14 Pre Heater, and the Revolution 6/14 Pre Heater. The three machines are equipped with a unique digital zone heating system, which fluctuates from three to five different heating options depending on the machine. The machines can also develop up to 2,000 psi in fluid pressure, with the 6/14 Pre Heater spraying up to 3,000 psi. Additionally, all Revolution proportioners come with a one-year manufacturers warranty.
Currently, Revolution's Research & Development team, led by Jason Armstrong, is developing a patent-pending technology for a new line of electric proportioners that Revolution claims is an SPF industry game-changer.
In addition to their proportioners, Revolution provides all the essential SPF accessories from custom-made, high-pressured heating hoses to digital radiant heat plates that maintain drums at the ideal heat temperature during the cold season. Revolution also assembles high-quality spray rigs that are offered in various options to suit the client's needs.
About Revolution Machinery: Revolution Machinery is a partnership between a 30-year-old manufacturing entity and 25 years of in field spray foam experience. Revolution has six different dealer locations across the U.S. and manufactures spray foam equipment for various distributors and contractors alike. For more information, please use the contact information and the link provided below.
Contact Details
Name: Timothy Nick
Email: Email Us
Phone No: 770-599-9466
Disqus website name not provided.
Spray Foam Equipment Manufacturer Makes Waves