Honeywell Announces New Winners for Promotion that Highlights Use of Environmentally Preferable Products
Honeywell Announces New Winners for Promotion that Highlights Use of Environmentally Preferable Products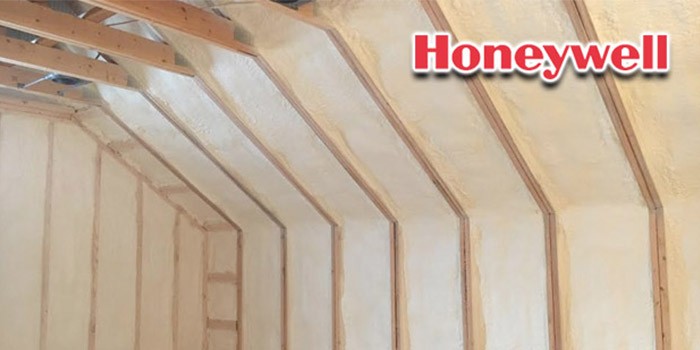 MORRIS PLAINS, N.J. – January 12, 2017—Honeywell is pleased to announce Paul Dion, Mark Eichinger, Charles Redmond, and Steve Nelson as the newest winners of its "Hit a Foam Run" promotion. They join the first winner, Joe Steffes, in receiving a $500 prize for submitting eligible projects into the sweepstakes.
The "Hit a Foam Run" contest centers on Honeywell's Solstice ® Liquid Blowing Agent (LBA), a critical material that causes foam to expand and enables its excellent insulating performance. Contractors enter information about a recent closed-cell spray foam project of any size that utilizes Solstice LBA. If they include up to three pictures of the project, they also qualify to win the Grand Prize, which is an all-expenses paid trip for two to the Professional Baseball Game of Stars in Miami, July 2017 ($7,000 estimated value).
Steffes and his company, Iowa Foam Insulators, located in Nevada, Iowa, used closed-cell spray foam formulated with Solstice LBA for the interior walls and doors of a 10,000-square- foot commercial building. Steffes also applied the new wall foam on the inside of a deer blind.
RELATED Construction Spending Increases in November; Outlook for 2017 Appears Favorable Overall, Next Gen Spray Foam, OSHA Issues Final Rule On Maintaining Accurate Records of Work-related Injuries and Illnesses
Paul Dion, president of Closed Cell Structures in North Reading, Mass., installed foam featuring Solstice LBA in an 8,000-square- foot high-end residential project for the walls, floors and roofing. Dion and his client were impressed by the foam's smooth finish and the blowing agent's ultra-low global-warming- potential (GWP).
Mark Eichinger is the owner of Arctic Insulation Specialists, Inc., located in Marion, Iowa. Eichinger used closed-cell wall foam made with Solstice LBA in a 25,000-square- foot project where he and his crew benefited from higher yields.
Charles Redmond of Redmond Sons Builders in Carnegie, Pa. installed wall foam using Solstice LBA in a residential project. Redmond noted that the foam improved thermal performance and reduced spray gun clogging, compared to prior foam formulations.
Steve Nelson of Urethane Systems in Holmen, Wis. used closed-cell foam with Solstice LBA in a 4,200-square- foot pole barn project, as well as an exterior water tank. Nelson has applied the product in more than 30 projects so far this year. He credits the successful completion of each project to Solstice LBA's high yields and excellent foam adhesion, even on cold surfaces.
Contractors can enter the "Hit a Foam Run" promotion now through April 30, 2017 by visiting www.honeywell-spraytoplay.com.
Solstice LBA is an ideal replacement for high-GWP HFC blowing agents used in closed-cell spray foam. It is nonflammable (ASTM E-681) and is not a volatile organic compound per U.S. Environmental Protection Agency (EPA). It is listed under the U.S.
EPA's Significant New Alternatives Policy (SNAP) Program and is also registered under the European Union's REACH program. Honeywell's U.S.-based, world-scale manufacturing plant for Solstice LBA started up in May 2014.
Ask your systems supplier about foam formulated with Honeywell Solstice LBA, or visit www.honeywell-blowingagents.com/.
About Honeywell: Honeywell is a Fortune 100 diversified technology and manufacturing leader, serving customers worldwide with aerospace products and services; control technologies for buildings, homes, and industry; turbochargers; and performance materials. For more news and information on Honeywell, please visit www.honeywell.com/newsroom.
Contact Details
Name: Josephine Lee
Email: Email Us
Phone No: 973-455- 2015
---
Disqus website name not provided.
Honeywell Announces New Winners for Promotion that Highlights Use of Environmentally Preferable Products