Heaven Sent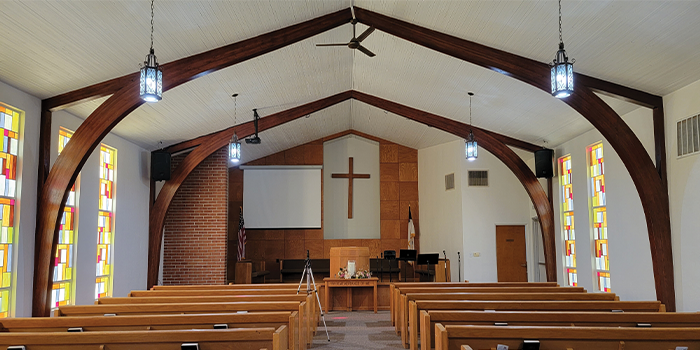 SPRAY FOAM MAGAZINE – There are moments in one's life that really stand out as being special or out of the ordinary. One such event happened to Rusty Schrader, owner of Allstate Spray Foam Insulation, in Visalia, California. Rusty is a great believer in helping people where and when he can, and this opportunity came via a phone call.
Pixley, California is situated in Central California's southeastern portion of the Central Valley, at the foot of the Sierra Nevada. This small-town is known for its close-knit community, and like many small agricultural towns, Pixley has a few churches. It's in one of these churches where this particular miracle takes shape – in the form of a leaking roof.
The pastor of Pixley Church of Nazarene, Pastor Dave Jolliff, had heard about Allstate Spray Foam Insulation, and their five-star rating. He had also investigated SPF when another company in Pixley had it installed and was very happy with the results. Pastor Jolliff reached out to Allstate to come look at the church and provide a quote for a roofing job.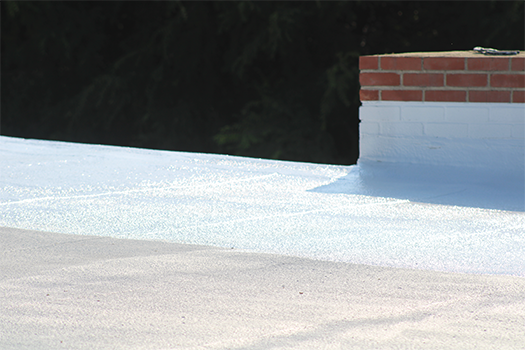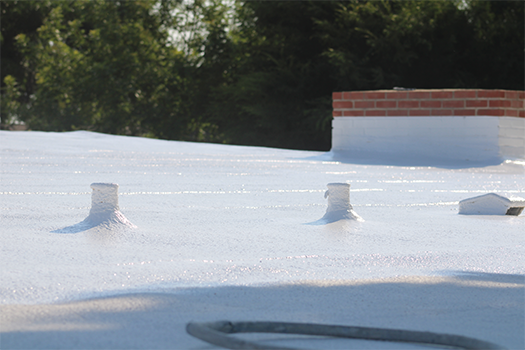 Top coat being applied to the flat church roof

On the way to the church, Rusty was thinking about the phone conversation he had with the Pastor and how he came across as being humble and sincere. He was also very honest about his price point. Rusty is aware that some churches are run like a business and can be money-oriented. However, after he spoke with the rest of the crew, they knew that this was a different situation. They also knew that they were going to donate this job. Call it a sixth sense, call it a whisper from the Lord himself, but the crew at Allstate were convinced they were the company to do this job.
When Rusty stopped by to look at the 4,200-sq ft church, Pastor Jolliff showed him the problematic leak that was dripping through into the main hall of the church. The Pastor and his team had tried to patch up the issue numerous times, but now the problem was too large for any patch-up job.
Rusty went up onto the flat part of the roof and he could clearly see where they had tried to mask and cork the leak. He went back to talk with the Pastor, and at that time, he did not disclose that he was going to do the job for free. Pastor Jolliff told Rusty that he had another contractor who came out to look at the roof and they had quoted the job. If Allstate could provide their price, then he can go to the church board with it.
Rusty replied, "Well Pastor, our price is free. We are going to donate this roof 100 percent to the church." Pastor Jolliff's recalled his response, "It made my eyeballs leak. We are a small church and to have such a blessing was amazing. Rusty and his entire crew are above and beyond what we could have ever expected. When Rusty told me that all his guys were volunteering their labor, and Rinehart Exterior theirs, as well as General Coatings donating the material, we were, and are, incredibly thankful."
Rusty found out later that the other guy who bid on the job is a good friend of his. When his friend called the Pastor back to check on the bidding process, the Pastor informed him he was going to go with the other company's bid, but did not mention it was Allstate. Rusty's friend asked, "Was I within 10 percent," to which the Pastor replied, "They are actually donating the roof."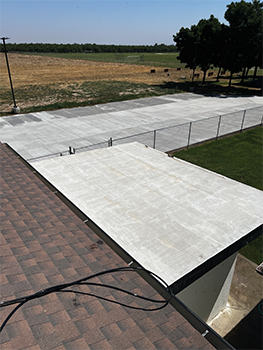 Surface prep power washing completed and ready for coating to be applied.
Rusty's friend, a devout church goer himself, replied, "Wow, now that is someone I would like to sit down to have breakfast with and pass over some of my overflow work." Both Rusty and his friend found this out later, when the Pastor told the story.
Pastor Jolliff made a point of saying, "You guys gave me the exact same pitch about how you would tackle and solve the leak issue." Rusty replied, "We have both been in the business for a long time." His friend, even though he lost the bid, said to Rusty, "God bless you for donating this roof."
The 76-year-old church has three roofs – two smaller roofs that Rusty and his crew just coated, and the church's main roof, which had the leak and needed foaming and coating.
First the roof was pressure washed by Rinehart Exterior, who also donated their time for this job. Ironically, Rusty helped Rinehart get started in business after he was working for someone else and they were taking 80 percent of his wages, while he was doing all the work and even using his own equipment and truck. Rusty told him that he had a new pressure washer in his shop, and why doesn't he come and get it? Rinehart came to get the pressure washer and started his own business.
The two smaller roofs were coated with General Coatings (GC) Ultra-Flex 1000, the crew then put new metal edging on the main roof, then applied 1.5 inches of GC's 2.8 lbs. foam, on top of which they applied a base coat of GC Ultra-Flex light grey, and then a topcoat of their Ultra-Flex 1000 white. While the crew was in the middle of the job, it rained. Rusty showed up the next day and asked how the roof performed, to which the Pastor happily stated, "No leaks."
On asking Rusty about this project and what made it so special, he replied, "It's without a doubt that God had put me and my crew there at the right time to do that roof. At the time we were working on the Church, I was working toward my roofing license. Every day the Pastor fixed us lunch, and on the last day when we put the topcoat on and made sure everything was cleaned up, the Pastor had smoked us some ribs as a thank you for a job well done. We were sitting eating our lunch, and a message popped up on my phone. At the exact moment we were celebrating finishing the church's leak-free roof, my roofing license came through. I showed the Pastor the message and said, 'now you can say a licensed roofer did the job.'"

Since the new roofing system was installed, the Pixley Church of the Nazarene has experienced no leaks.
Rusty is thankful for so many things, including his wife Teffenie, who runs the office, and his crew, "They are just as dedicated as I am to the job. I can't speak highly enough of my crew, which consists of my two sons, Derek and Dennis Chester, Nick Collins, and Juan Aldaco. In addition to them, without the generosity of General Coatings donating material, and Rinehart Exterior's help, this special project would not have been possible."
Speaking with the Pastor following the project he said, "Allstate Spray Foam did an amazing job. We have had rain since the foam and coating were installed and we haven't had any leaks since. We can't thank everyone enough who was involved in making this happen."
The Nazarene Christians are known to donate time, money, and energy to causes that will show God's love to the world. On this occasion, a contractor and his crew donated their time, energy, and expertise to a church in need of a new roof. Call it goodwill, or even a miracle, one thing is for certain, everything was aligned at the right time, and without the knowledge of a superior material like SPF, and the desire to help a small church in need, this roof may never have been fixed. Rusty and his crew surely must have been heaven-sent.
For use by SprayFoamMagazine & Spray Foam Magazine 

---
Disqus website name not provided.
You May Also Like