Foam Supplies, Inc. Plays Critical Role in Award-Winning Carbon Offset Methodology for Polyurethane Foam Manufacturing
Foam Supplies, Inc. Plays Critical Role in Award-Winning Carbon Offset Methodology for Polyurethane Foam Manufacturing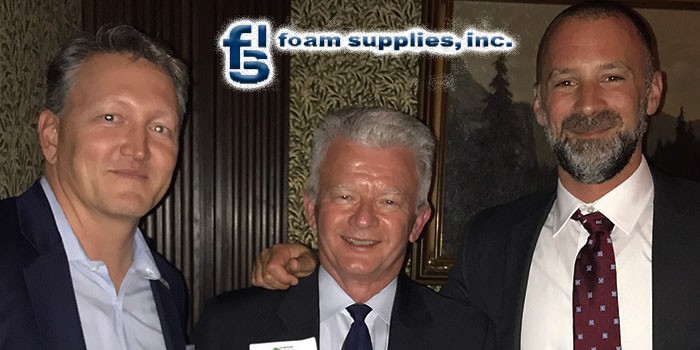 ST. LOUIS, MO – May 10, 2017 – Foam Supplies, Inc. (FSI), the industry leader in environmentally responsible polyurethane products, worked in partnership with the global law firm, Dentons, to develop a revolutionary carbon offset methodology which earned Dentons the American Carbon Registry's prestigious 2017 Innovation Award.
The firm was recognized for its offset methodology for "Transition to Advanced Formulation Blowing Agents in Foam Manufacturing and Use" at the American Carbon Registry's annual awards event on April 19, 2017 in San Francisco. Jeffrey Fort, an Environmental Partner at Dentons, and Todd Keske, President of FSI, were on hand to accept the award.
The unique methodology measures carbon offsets used by manufacturers of polyurethane foam and is designed to provide incentives to use no- or low-Global Warming Potential (GWP) blowing agents during the manufacturing process. The methodology is intended to provide access to carbon finance to increase acceptance of available advanced technologies and accelerate a transition to no- or low-GWP blowing agents in these sectors more rapidly than would otherwise occur. Currently, this methodology presents a low-cost approach to reducing greenhouse gases.
FSI, creator of the patented zero-GWP ecomate® blowing agent technology, provided Dentons with both the initial concept for the methodology as well as with critical support during its development. To learn more about the methodology, and about the American Carbon Registry's efforts to reduce greenhouse gasses through market-based initiatives, visit americancarbonregistry.org.
RELATED Demilec Launches Heatlok ABS, The Industry's First Complete Air Barrier and Spray Foam Insulation System , Lapolla Industries Introduces New and Improved FOAM-LOK 500 Spray Polyurethane Foam for Insulation Applications, Spray Polyurethane Foam Market to Hit $1.90 Billion Globally by 2020, Report Says

About Foam Supplies
Known for its innovative technologies, turnkey solutions and superior customer service, FSI is a premier independent polyurethane systems supplier. The company currently operates 2 US manufacturing facilities and 6 international companies, plus has technology partners and distributors in 17 countries, and customers around the world. For more information, visit foamsupplies.com.
About Dentons
Dentons is the world's largest law firm, delivering quality and value to clients around the globe. Dentons is a leader on the Acritas Global Elite Brand Index, a BTI Client Service 30 Award winner and recognized by prominent business and legal publications for its innovations in client service, including founding Nextlaw Labs and the Nextlaw Global Referral Network. For more information, visit dentons.com.
Disqus website name not provided.
Foam Supplies, Inc. Plays Critical Role in Award-Winning Carbon Offset Methodology for Polyurethane Foam Manufacturing