Coating with Confidence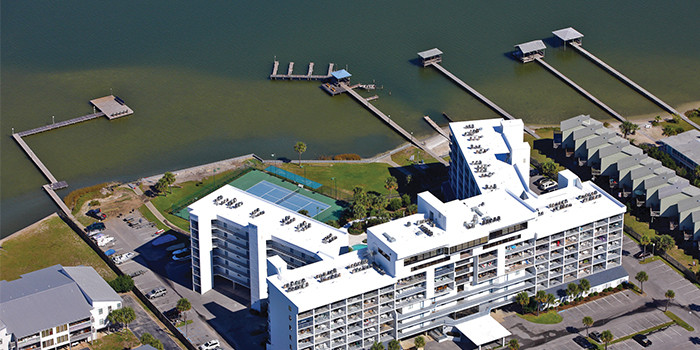 Spray Foam Magazine – Late Summer 2021 – Nestled between an inlet and the ocean, The Gulf Shores Surf and Racquet Club is a condominium complex situated in Gulf Shores, Alabama. The condos are individually owned, with many being rented out to vacationers wishing to enjoy the scenic area, while having a comfortable place to stay.
Following a substantial roof leak, the owners of Gulf Shores Surf and Racquet Club called on the services of Thomas Roofing, located not too far from Mobile, Alabama.
The roof was a Siplast modified bitumen system that was at the end of its warranty term, and the Gulf Shores HOA wanted the roof under warranty. They were looking for an alternative over recovering or replacing the roof, so Thomas Roofing suggested a coating system, since it is less disruptive and could provide them with a long-term warranty.
Thomas Roofing has been in the roofing industry since 1968 and according to American WeatherStar (AWS), they are an industry-leading installer of fluid-applied roof restoration solutions. Thomas Roofing has installed several million sq. ft. of AWS's Ure-A-Sil system, and they had a great deal of confidence in using this system. Lisa Irby, VP and the Service Department Manager at Thomas Roofing confirmed, "We've used their products for years; we found their urethane to be one of the best products that we've come across and when combined with their silicone, it's a great system that we are willing to sell a 20-year warranty on. We have built a great relationship with the staff at American WeatherStar.
American WeatherStar opened its doors in 2004. Brian O'Donnell the president and founder of this company reflected on his career, "As an independent rep in the roof coatings business, I decided in 2003 that there was space for a startup supplier in this industry. I had worked for both a major industry manufacturer and a small supplier and believe that experience and training from some really great people prepared me to go for it."
The crew of four from Thomas Roofing, first pressure washed the roof to ensure all sealants and coatings would adhere properly. They then made repairs to any deficiencies in the roof and removed all the pitch pans at the HVAC stands and wrapped the legs with American WeatherStar's 522 urethane coating. Then they sealed all the laps and penetrations with AWS 522 urethane, installed AWS Urethane 520 at 1.5 gallons per 100 sq. ft. and then AWS Silicone 410 at 1.5 gallons per 100 sq. ft. all of which was applied with a Super Tank Spreader from Roof Top Equipment. The process took 10 days to remove the pitch pans and wrap the legs and six days to apply the two-coat system.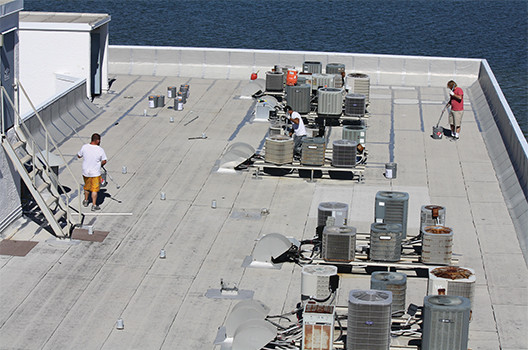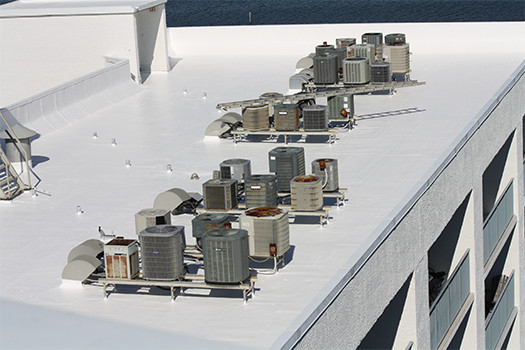 Before (top) and after (bottom): The 25,000 sq. ft. roof coating installation will help provide UV protection, reflectivity, durability and weatherability.
American WeatherStar's Ure-A-Sil system was used on the Gulf Shores Surf and Racquet Club 25,000 sq. ft. roof, due to its urethane base coat offering incredible strength and adhesion qualities. These qualities complemented the silicone topcoat, and therefore helped restore and protect the flat roof substrate. It will also provide UV protection, reflectivity, durability, and weatherability. O'Donnell emphasized, "With such a high-profile project, near our office, I was able to be on this roof multiple times during the application. Thomas Roofing is an outstanding contractor that we have worked with for many years, and I have great confidence in Lisa Irby's team. We knew the owners would get a great system."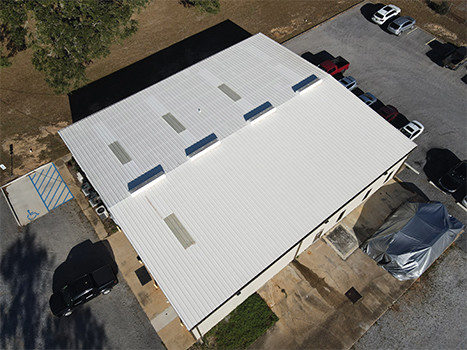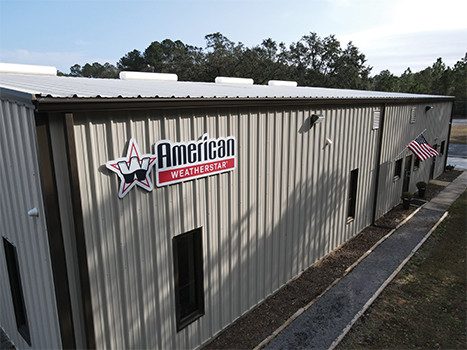 American WeatherStar demonstrates "practice what you preach" with their roof coatings installed on their facility in Irvington, Alabama.
According to American WeatherStar, the condominium complex already had great insulation, so SPF was never really considered for this job. The Ure-A-Sil system additionally has advanced waterproofing strength without the overspray of SPF, which in this instance could have caused a potential issue. Due to the project being located on the Gulf of Mexico, the possible overspray concerns were a major issue because the cleanup of overspray can be more problematic in marine protected areas.
Lisa Irby reflects on times gone by saying, "Thomas Roofing weren't fans of coatings when they first hit the market, so we were a little late to the game. We look at each roof with the attitude that not all roofs are meant to be coated but if it's repairable and not saturated, then it can be a coating candidate. A large portion of our sales are now coating systems. If we can provide the owner with an affordable/warrantable option, then we do so and have had a lot of success."
Gulf Shores Surf and Racquet Club office manager Amanda Holland stated, "Gulf Shores Surf and Racquet Club could not be happier with the work Thomas Roofing has done for us. Our roof was in bad shape and in desperate need of repair. The crew was very efficient and professional, and the result was better than what we expected. Our roof is now beautiful. We could definitely recommend them for any roofing needs."
Creating a long term and solid relationship between the contractor, manufacturer, and supplier benefits all. Thomas Roofing has trust in a great system and American WeatherStar knows that their products are being applied by professionals. This mutual trust has resulted in both parties achieving the highest quality and standards for their clients.
Contact American WeatherStar
For more information on professional commercial roofing systems, contact AWS:
Phone: 888-244-5788 / Website: www.americanweatherstar.com
*Spray Foam Magazine does not take editorial positions on particular issues; individual contributions to the magazine express the opinions of discrete authors unless explicitly labeled or otherwise stated. The inclusion of a particular piece in the magazine does not mean that individual staff members or editors concur with the editorial positions represented therein.

Disqus website name not provided.