A Legacy of Excellence

SPRAY FOAM MAGAZINE – Legacy Foam Solutions of Riverton, Wyoming is living proof that Small Town USA is as good of a location for a spray foam business as any bustling metropolitan area. Co-owners Reggie Larsen and Courtney Wall credit a conscientious eye for detail and a receptiveness to feedback from clients and colleagues as the key to earning people's business and creating a lasting brand reputation.
Larsen and Wall started Legacy Foam Solutions in 2020 and are relative newcomers to the spray foam industry. With Courtney having a construction background, they decided that the spray foam industry could be the industry for them. Not knowing much about it, they Googled "spray foam trailer" and five days later they were sitting in a spray foam training program in Rutledge, Georgia, the home of Profoam Corp. "The class was our introduction to the industry and the science of how our products are made, handled and installed. We left Georgia with certificates of completion in hand, a spray foam unit ordered, the full resources of the Profoam team as our back office, and the tools to go out and learn to install and apply this product. We were now in business for ourselves, and on to phase two of our working careers, close to home and building our Legacy," states Larsen.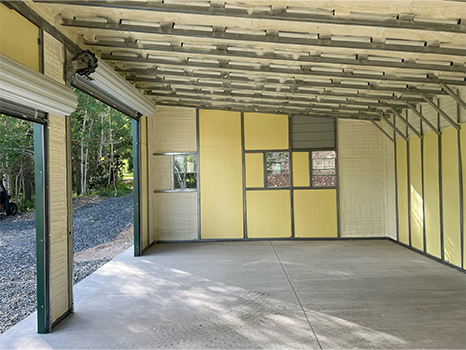 Art Deco, one inch of NCFI closed-cell foam applied and colored foam board
Formerly, Larsen was a director of a publicly traded company in the energy industry, and Wall had a lengthy career as an oilfield worker. They combined their experiences and skills to create Legacy Foam Solutions, with Larsen taking the reins on the business management side, while Wall leads the team on the operations side. In addition to themselves, Wall and Larsen, their lead sprayer, Charlie "Spray Foam Charlie" Tschacher has been with the business since the beginning, and their newest sprayer, Seth "Sethro the Gun" Lynch has made a welcome addition to Legacy's team of rockstars.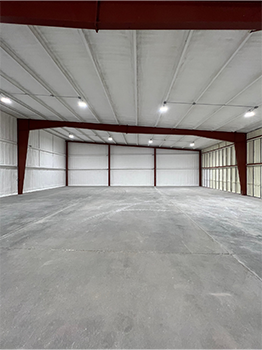 Warehouse coated with DC-315 over two inches of NCFI closed-cell foam
They strongly believe in the power of showing up and working hard, and in letting their reputations leave a legacy. So far, this approach has worked, and their business continues to grow, despite serving an area with relatively low population density and a seemingly small market. The city of Riverton has a population of just over 10,000, yet Larsen and Wall's business continues to flourish. When asked their secret, Larsen replies, "We earn people's work." This ethos is apparent in their organization, with Larsen and Wall combining their talents to create a business that functions like a well-oiled machine.
From a marketing and sales standpoint, they knew they would have to cast a wide net in order to feed their business. Both Larsen and Wall have firm roots in their town and rural communities. They attended trade, home and garden shows, implemented a billboard campaign throughout Fremont County, and established themselves with the majority of the top tier local contractors. They knew that they had to establish their brand, to be called up in local casual conversation, "Call those Legacy Foam guys, they'll get it taken care of." They are now hearing about such conversations. They are also willing to go where the work and opportunity takes them in order to grow their business.
Despite serving their small area, Legacy has no shortage of business. To diversify their services, they specialize in standard spray foam projects, and provide concrete lifting services. They serve equal parts commercial and residential clients, with the brunt of their business volumes coming from residential spray foam clients.


Recently, Larsen and Wall were met with a stroke of fortune, when a significant sum of grant funding came courtesy of the city of Riverton's EDGE Committee, an economic stimulus committee. Legacy pledges to use the money to expand their operations by purchasing an ancillary foam rig from Profoam and adding up to two new employees, allowing Legacy to double their team's output by effectively being in two places at once. The team at Legacy Foam Solutions express what a humbling success this win is for a spray foam company that is still in its infancy, and they are honored to continue serving the Riverton area as their operations continue to grow.
Having two rigs will allow them to take on more jobs at the same time, allowing them to double their customer base and adding crew members will create job opportunities in the Riverton area, a stipulation of the Riverton's EDGE Committee grant.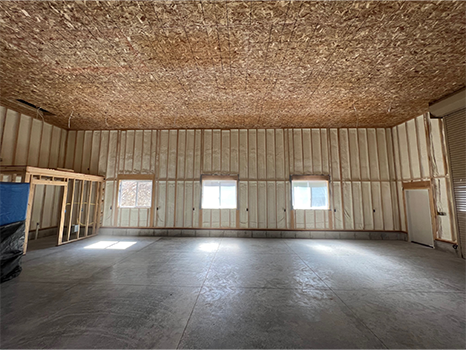 Large shop with application of two inches of NCFI closed-cell foam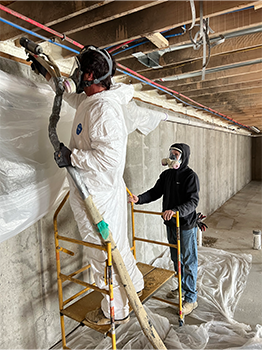 Courtney installing SPF in the crown of a basement
Larsen describes Legacy as "Profoam loyalists," because their first introduction to the world of spray foam was through attending Profoam's training classes. Jordan Cook, a sales associate with Profoam, speaks enthusiastically about how the Legacy team's reputation precedes them. "These guys are legitimately the cleanest spray foam company I've observed. Their rig still looks brand new, and jobs sites are spotless." When asked about the secret to their squeaky-clean process, Larsen says, "It's all about the pride we feel about the product, and the respect we have for our customers."
Larsen and Wall both have teenage boys and each have a daughter. In taking the reins and becoming business owners, they get to demonstrate to them what pride in ownership, hard work, and determination can provide for them in their lives. They establish a unique connection with their customers, and it has proven to get them invited back time and time again. They have also expanded their services into the oilfield sector in the fourth quarter of 2022 and currently have bids out for a half a dozen more applications in that arena.
They recently submitted a sizable proposal to the Wyoming Department of Transportation for a foam lift on their local main street. "With the backing of Profoam, this diversification will allow us to seek out the additional growth opportunities that our market will provide. The vision is to grow and to stay the course," states Wall.
Reflecting on their business journey, Larsen recounts a conversation he had with one of their first spray foam clients – a local contractor that he not only respected and considered a friend, but who was well-connected in the industry. "He said, Reggie, if you guys go in and make a huge mess, if you get that stuff on my floors, I'll never have you back." These words stuck, and the Legacy team were determined to cultivate an image of a careful, precise company that cleans up after themselves, and even leaves jobs cleaner than before, just to go that extra mile. Soon, they'll have a brand-new ancillary rig to show off, all thanks to the power of showing up, working hard, and learning from the best.
For use by SprayFoamMagazine.com & Spray Foam Magazine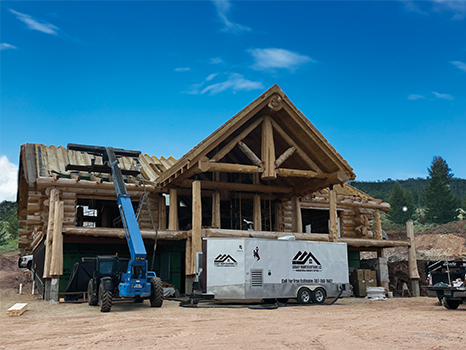 New build constructions often provide picturesque views of the mountains in Wyoming for the hardworking Legacy crew

---
Disqus website name not provided.