Regional Finalists Chosen For Inaugural Young Champions Of The Earth Prize
Regional Finalists Chosen For Inaugural Young Champions Of The Earth Prize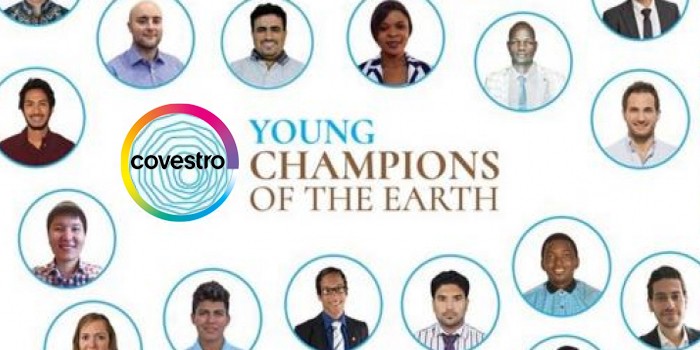 LEVERKUSEN, GERMANY – September 18, 2017 – Public invited to rate finalists' ideas to save the environment
The United Nations Environment Programme has announced a shortlist of regional finalists for the inaugural Young Champions of the Earth prize, a global competition sponsored by Covestro that aims to identify, support and celebrate outstanding individuals aged 18-30 who have big ideas to protect or restore the environment.

Thirty regional finalists – all with emphatic track records of environmental commitment – were selected from over 600 applicants for having the most innovative, scalable and potentially impactful ideas.

Their proposals range from the deployment of solar-powered irrigation pumps to boost agricultural productivity and foster peace in conflict zones, to the creation of floating eco-villages to help vulnerable communities adapt to rising sea-levels. The ideas also range from sustainability advocacy through music and radio to the provision of healthcare services in return for recyclable trash.

Addressing critical environmental concerns

Covestro is one of the world's leading polymer companies and a strong proponent of innovation for environmental sustainability, and CEO Patrick Thomas said: "So much thought has gone into addressing the critical environmental concerns which clearly strike a chord with our regional finalists. I'm confident that many of these wonderful ideas will become reality and go a long way in making the world a brighter place not just for us, but for many generations to come."

Erik Solheim, head of UN Environment, added: "The future of our planet depends on our ability to innovate. And when it comes to environmental solutions, we're only at the beginning of what I'm convinced will be a major economic revolution. These regional finalists are examples of the passion, drive and creativity that will underpin the coming change. These young innovators need to be empowered so that they can fulfil their potential and shape the future."

RELATED Advanced Panelization Made Possible With Polyurethane , Student's 'Peek' Travel Product For Children Wins Annual Design Innovation In Plastics Award, Johns Manville Named Insulate America's "Supplier of the Year"

Public invited to rate proposals

Members of the public are being encouraged to view and rate the proposals until August 31. Informed by public opinion, a global jury will select six Young Champions in early September. The winners will each receive USD 15,000 in seed funding, expert mentoring, needs-based training and access to powerful networks.

Short biographies of the 30 regional finalists and summaries of their ideas including video pitches can be seen on the Young Champions website.

About Covestro:
With 2016 sales of EUR 11.9 billion, Covestro is among the world's largest polymer companies. Business activities are focused on the manufacture of high-tech polymer materials and the development of innovative solutions for products used in many areas of daily life. The main segments served are the automotive, construction, wood processing and furniture, and electrical and electronics industries. Other sectors include sports and leisure, cosmetics, health and the chemical industry itself. Covestro, formerly Bayer MaterialScience, has 30 production sites worldwide and employs approximately 15,600 people (calculated as full-time equivalents) at the end of 2016.

Contact Details
Name: Matthias Poth
Email: Email Us
Phone No: 49 214 6009 5486
Disqus website name not provided.
Regional Finalists Chosen For Inaugural Young Champions Of The Earth Prize