Drake Group Selects CertainTeed as Vendor of Year
Drake Group Selects CertainTeed as Vendor of Year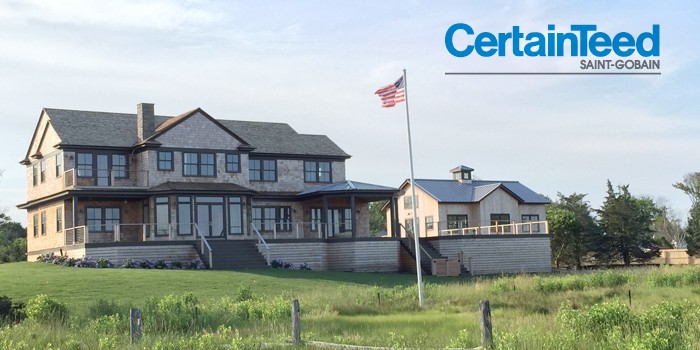 MALVERN, PA
– June 3, 2016 – The Drake Group LLC, a consortium of 61 leading specialty distributors, honored CertainTeed with two Vendor of the Year awards at the company's annual meeting in Orlando, Florida. Both CertainTeed Insulation and Gypsum business units were recognized as Vendor of the Year in their respective categories. For CertainTeed Insulation, it was the second Vendor of the Year award in three years, while 2015 marked the first such award for CertainTeed Gypsum.
The awards are based on the results of Drake's yearly survey of its member distributors at more than 210 U.S. locations. Vendor winners are chosen based on criteria that include trust, product quality, service and responsiveness.
"While it's unusual to have the same company win two Vendor of the Year awards, the strong showing by both CertainTeed Insulation and CertainTeed Gypsum among our group of leading independent dealers was very compelling," said Jeff Dushack, executive director of The Drake Group. "CertainTeed's continued support of our member companies exemplifies its ongoing efforts to achieve excellence, year in and year out."
Vice President of Sales Rob Malandra accepted the award for CertainTeed Insulation, joined by Russ Karnis, director of distribution sales, and Bill Downs, regional manager. "Drake does an outstanding job gathering feedback from its members through this annual survey," said Malandra. "And we're extremely proud and pleased that CertainTeed Insulation was recognized for our progress and improvement in every one of the 20 survey criteria. This award validates our ongoing efforts to maximize service to key customers like Drake."
CertainTeed Gypsum was represented in Orlando by Steve Hawkins, vice president of sales. "We are honored to have been selected by The Drake Group to receive this prestigious award," said Hawkins. "We consistently strive to provide our customers with quality products and excellent service. This award is a validation of those efforts."
Headquartered in Tampa, Fla., The Drake Group represents a national network of independent distributors of gypsum and related wall, ceilings and other building products. For more information, visit
www.gypsumtoday.com
.

About CertainTeed: Through the responsible development of innovative and sustainable building products, CertainTeed, headquartered in Malvern, Pennsylvania, has helped shape the building products industry for more than 110 years. Founded in 1904 as General Roofing Manufacturing Company, the firm's slogan "Quality Made Certain, Satisfaction Guaranteed," quickly inspired the name CertainTeed. Today, CertainTeed® is North America's leading brand of exterior and interior building products, including roofing, siding, fence, decking, railing, trim, insulation, gypsum and ceilings.
A subsidiary of Saint-Gobain, one of the world's largest and oldest building products companies, CertainTeed and its affiliates have more than 5,700 employees and more than 60 manufacturing facilities throughout the United States and Canada. The group had total sales of approximately $3.3 billion in 2015.
www.certainteed.com
Contact Details
Name: Victoria Gallagher
Email: Email Us
Phone No: (610) 893-6002
Disqus website name not provided.
Drake Group Selects CertainTeed as Vendor of Year