D-MAX Wall Assembly – HUNTSMAN BUILDING SOLUTIONS
D-MAX Wall Assembly – HUNTSMAN BUILDING SOLUTIONS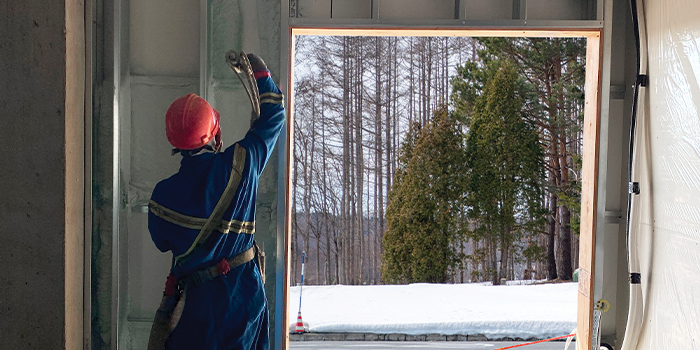 HUNTSMAN BUILDING SOLUTIONS D-MAX Wall Assembly
Benefits:
Spray application regardless of the temperature or wind (down to 15°F).
Product applied completely from the interior: valuable time saving, no delay due to weather conditions.
No scaffolding or hydraulic elevators. Less machinery, therefore reduced rental costs, logistics and risk of accidents.
Insulation of the building possible as the walls are built.
Meets fireblocking requirements for concealed wall spaces. IBC Section 718.2.
Maximum speed of installation, requiring fewer workers and reducing construction costs.
1 product - 3 functions: insulation, air barrier and vapor barrier. 1 single application instead of 3 products and 3 applications.
Interior furring is optional compared to conventional construction, electrical systems can be installed before or after insulation. No holes in the vapor barrier.
Significant heating savings for winter construction.
Certifications
The D-Max wall assembly has successfully passed the NFPA 285 test in accordance with the IBC requirements in section 2603.5.5. The product is also Greenguard Gold certified, which means that it is low VOC emission to ensure better indoor air quality.
NFPA 285 compliant
ASTM E96 Water Vapor Permeance
ASTM E2178 Air Permeance
GREENGUARD GOLD Certification - Air Quality
Firestop certification by Hilti, 3M and STI
LEED V4: EPD-HPD-ACV
UES Evaluation 565
Contact Details
---
D-MAX Wall Assembly – HUNTSMAN BUILDING SOLUTIONS