ST1 Spray Gun – Carlisle Spray Technologies
ST1 Spray Gun – Carlisle Spray Technologies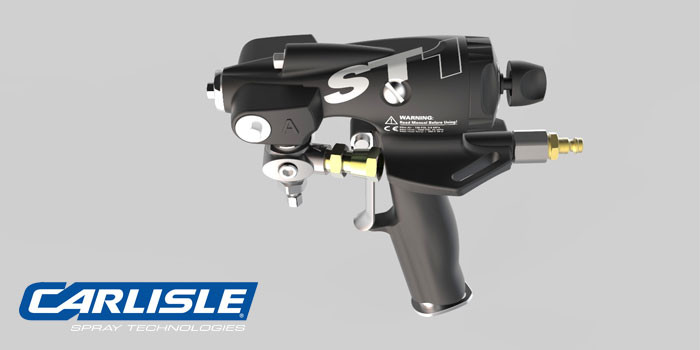 What is the product?
Carlisle's ST1 Spray Gun is designed for spraying polyurethane foam insulation in residential and commercial projects. The spray gun features ergonomics for increased comfort and control, quick change mix tips for precision and consistency, and an intuitive design for easy service.

What makes it unique?

The ST1 Spray Gun reduces sprayer fatigue and increases application consistency by being 10% lighter than the leading competition - allowing applicators to spray longer and more consistently, especially in hard-to-reach areas. The quick and easy change of mix tips on the job allows applicators to seamlessly move from rapid coverage to precise application. Also, the ST1 spray gun is designed for simple maintenance by using a single tool, minimizing down time for applicators to continue spraying on the job.
Who is the product made for?

Carlisle designed the ST1 Spray Gun to maximize applicators' productivity and spraying control and consistency.

Contact Details
Name: Alex Drescher
Phone No: 717-960-4402
---
ST1 Spray Gun – Carlisle Spray Technologies