CDS Proportioner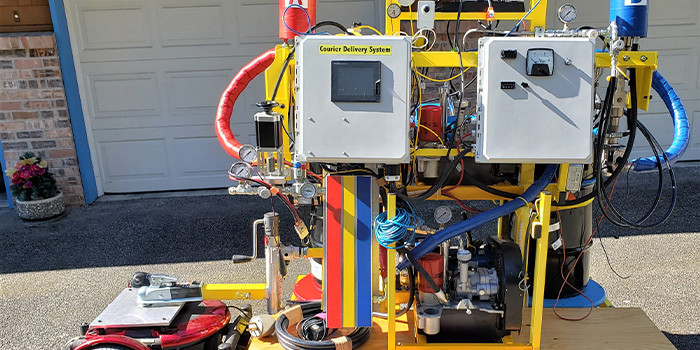 Spray Foam & Coatings Proportioner
This unit is highly insulated and has the best heat control and least amount of amp draw. It is a 230 V single phase, totally independent hydraulic pressure compensating proportional pumps. There is a separate hydraulic power pack for each component pump.
Hydraulic reciprocating pumps have been available for over 40 years with fewer components, more reliability, and faster directional change. They eliminate air transfer pumps by using a driver pump technology, which simplifies your whole setup. The paint industry uses hydraulic paint pumps.
Independent or direct drive ISO A and B resin pumps are connected to separate pumps or drive power sources. Each pump or drive source may be separately controlled by downstream measurements of flow. Because the motor/driver for each pump is controlled independently, they are not restricted to pumping equal volumes of fluid or spray at Ratios up to 3:1. Independent drive systems can be set to minimize differences in pressure and may use flow meters to control ratio. Since the mixing ratio is adjustable, it may require a more qualified applicator to properly operate this type of system.
This unit has a self-contained power to take it up in a high rise to do perimeter wall reclamation. The A & B materials are heated from the bottom of 15-gallon drums on board the cart. The counsel is PLC controlled.
There are many benefits with Hydraulic independent driving systems and improved proportioner heat control. These benefits include:
Excellent heat and ratio control
Faster troubleshooting
No transfer pumps used.
Lower operating costs
2 guns capable
Hydraulic drum mixer
Price only $25,000.00
Please Contact John Courier at Equipment & Coatings Technologies LLC Renton WA, email is 2johnpc@comcast.net or office 253-850-8709, or my Cell 206-979-3533. www.ectech.com We have 3 different models.
Location Details
Country: United States
State: Washington
City: Renton
Contact Details
Name: John Courier
Email: Email Us
Phone No: 253-850-8709