Foam Roofing Guide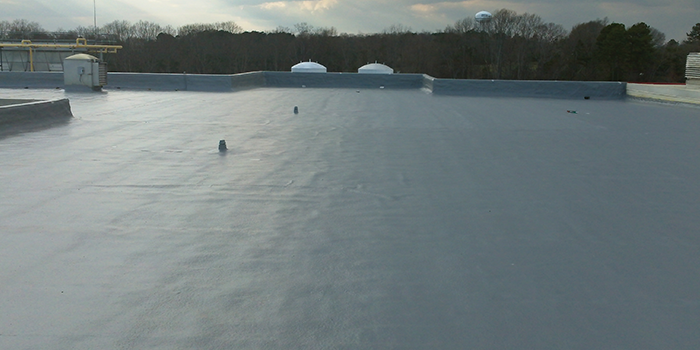 Spray Foam Roofs
Spray Polyurethane Foam (SPF) Roofing Systems provide many benefits to building owners, primarily robust insulation and waterproofing ability, but the benefits don't end there.
Benefits of Spray Foam Roofing Systems
Seamless, monolithic, leak-free

Self-flashing

High insulation value (R-value)

ROI with energy savings alone

Strong adhesion and wind uplift resistance

UV and weather-resistant

Lightweight and high-strength

UL and FM approved systems

From Liquid to Solid: a Protective, Monolithic Roofing Shell
SPF is applied as a liquid using plural-component spray equipment. Upon being sprayed on a roofing surface, SPF expands to roughly 30 times its original liquid volume and dries within seconds. The expansion results in a dense, monolithic roofing material that is fully adhered to the substrate.
SPF roofs only utilize strong, high-density closed-cell foam, although it is considerably less dense than other roofing materials and adds little additional weight to the roof. Due to its ability to adhere to a wide variety of substrates, SPF roofs are the perfect solution for reroofing applications. Also, spray foam roofs are more robust than other roofing systems, offering high wind uplift resistance. Spray foam is frequently used as the exterior roofing system in monolithic domes.
Protective Coatings for Spray Foam Roofs
When roofing foam is installed to the specified thickness and allowed to cure, an elastomeric coating is then applied over the foam surface. Sometimes gravel or greenery is added in conjunction with a coating. The addition of the coating creates a durable, weather-resistant roofing system that can easily be walked on for maintenance purposes.

Cool Roof Benefits

SPF roofing systems provide buildings with excellent insulation value and a light-colored roofing surface, which can reduce the amount of air conditioning needed in buildings. This gives the building what is known as a cool roof, which is a roofing system that reflects considerably more sunlight (and therefore heat) than conventional roofs. Cool roofs can help eliminate urban heat island effect, which is the tendency for urban areas to be exceedingly hot.
SPF Roofing Installation

The installation of an SPF roof will vary slightly depending on the characteristics of the existing roof. Generally speaking, however, the process can be broken down into three phases:

1. Prep Work
2. Foam Application
3. Finishing Work
Spray foam roofs can be installed in a timely manner, and can offer less downtime during installation than other roofing systems.