SPF Roofing Adhesive for Homes
SPF Roofing Adhesive for Homes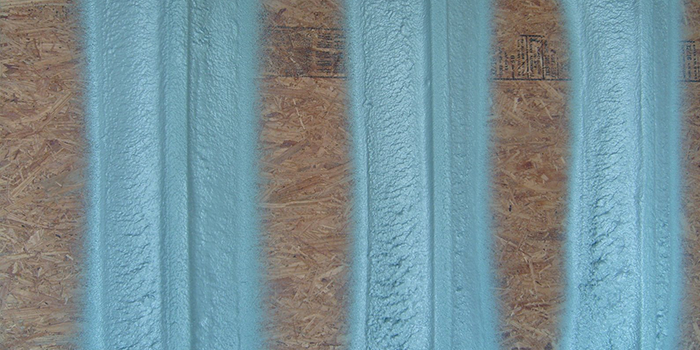 Back to Education Center | Architect's Guide | Foam Construction Adhesives
SPF Residential Roofing Adhesive - Wind Uplift Mitigation
A strong roof is one of the most important aspects of a safe home when it comes to natural disasters. According to the Florida Bureau of recovery and Management, between 77-95% of hurricane-damaged had some form of roofing failure. Effective options to strengthen and waterproof existing roof systems have been limited historically. However, closed-cell spray polyurethane foam (SPF) insulation, when applied directly to the underside of the roof deck from the inside of the home, can create a robust bond between the roof sheathing and the joist assembly, while simultaneously increasing a home's energy efficiency.
Several SPF manufacturers market polyurethane foam adhesive systems specifically for the mitigation of roofing failure during hurricanes. This is a cost-effective method of reducing wind and water damage associated with hurricanes and other high-wind events. These foam adhesive systems can be applied to the roofs of both existing buildings and new construction. The adhesive is applied by a trained foam applicator where the trusses meet the roof deck (see image above). The exterior of the roof is not disturbed during the application.
Foam Adhesives for Metal Roofs
Testing at the University of Florida indicated that closed-cell spray foam used as an adhesive can increase a roof's wind uplift resistance two to three times that of a typical roof. Testing at Clemson University's Civil Engineering Department showed that foam adhesive systems can increase metal roof uplift resistance 250%-300% versus traditional methods. If you live on the Florida Coast, applications of foam adhesive systems can reduce your homeowner's insurance rate and qualify as an approved Superior Roof Sheathing Attachment and Secondary Water Resistance mitigation.
SPF Roofing Adhesive for Homes