Spray Foam Equipment Guide
Spray Foam Equipment Guide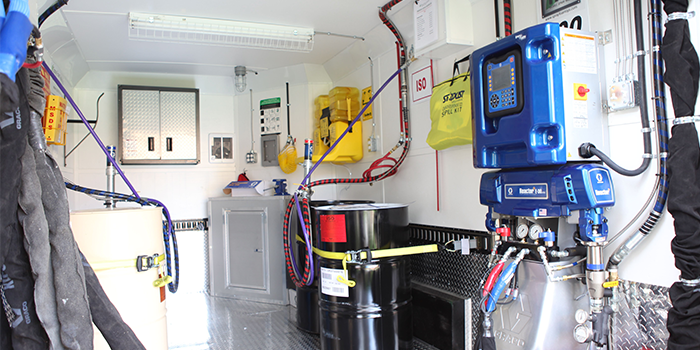 Spray Foam Equipment Guide
Generally speaking, spray polyurethane foam (SPF) is applied using commercially available high-pressure, plural-component proportioning technology. Alternatively, SPF can be applied low-pressure, single-component cans or two-component pressurized kits for smaller applications.
SPF equipment is integral to the entire process of applied spray foam: from transferring the components out of the material drums, to properly heating and pressurizing the materials, to pumping them through hoses, to finally mixing and spraying the components.
The two components that combine to make SPF (Side A: isocyanate, and Side B: polyol resin) are typically supplied in 55-gallon drum sets, which must be shipped and stored according specific procedures. Once in use on the job site, they are transferred from the drums to the proportioning machine via specialized transfer pumps.
Spray foam machines have two metering, or proportioning, pumps (one for each component) that heat and proportion the isocyanate and polyol in a 1:1 ratio. The two materials, transported from the proportioner through heated hoses, are kept separated through the entire system until they come together in the spray gun, where they are mixed and spray-applied to the target substrate.
Proportioning Machines
Proportioning machines come in all shapes and sizes, and are available from several manufacturers. There are numerous aspects to consider when purchasing a machine:

Drive System (Electric, Hydraulic, or Pneumatic)

Output (in gallons per minute, or gpm)

Pressure capacity (in pounds per square inch, or psi)

Heating capacity (in kilowatts, or kW)

Electrical system

More About Spray Foam Machines
Mobile Spray Rigs

Spray Rigs integrate all of the necessary equipment and tools needed for SPF application into a single mobile package. A vast majority of spray rigs in operation are towable trailers, but it isn't uncommon to see a system integrated into a box truck. The benefit with a mobile spray rig is that all of the necessary equipment, including air and power utilities, is always ready and located in one place.
More About Mobile Spray Rigs
Spray Guns
In mixing the chemical components and spraying to the intended substrate, spray guns perform the most critical functions of the spray foam application process. Spray guns are separated into three classes, depending on their functionality when the trigger is released:

Mechanical purge

Air purge

Solvent purge.
More About Spray Guns
Heated Hoses
Getting the heated Side A & Side B materials from the proportioner to the spray gun requires specialized hoses through which the material is transferred, being heated along the way to maintain the desired temperature. Heated hose is generally available in 25, 50, or 100-foot lengths, and feature heating elements, temperature controllers, insulation, and protective jackets to prevent puncturing.

Heated hose systems can reach prodigious lengths, and often that's a necessity in the spray foam industry. For example, in commercial roofing applications, it isn't always feasible to maneuver a spray rig close to where the spray area is located, so it's not uncommon to see total hose lengths of up to 400 feet (four 100-foot sections of hose). But that's not to say that project specifics determine the length of heated hose used for a given application. In fact, it's the performance characteristics of the proportioner that define the maximum hose length.

Because heated hoses don't actually heat up the material, but rather prevent the material from cooling down too much as it's pumped through the hose, it's the job of the proportioner to raise the materials' temperatures sufficiently high enough to reach the end of the hose length in the optimal temperature range. So, less powerful proportioners might have max hose lengths of 200 feet, while proportioners intended for commercial and industrial applications can handle hoses twice that long.

Auxiliary Equipment

In addition to proportioners, spray guns, and heated hoses, you will typically find much more equipment and power utilities involved before, during, and after a spray foam application.

Prior to spraying foam, the substrate might need to be prepared to optimize adhesion. Surface prep might require power-washing or abrasive-blasting equipment. Also, a substrate might need to be primed, which entails the use of single-component airless sprayers.

Obviously, powered equipment used in an SPF application requires electricity, which is typically supplied by a mobile generator, unless power is available at the job site. The generator needs to be properly sized, which is to say powerful enough to handle the full load amperage draw of all powered application equipment.Several pieces of equipment in a typical SPF rig are pneumatic, or require air to operate. This equipment can include the spray guns and the transfer pumps that supply the material to the machines from the 55-gallon drums. To address this need, most spray foam equipment systems include electric air compressors to supply compressed air to the pneumatic equipment as needed during an application.
Spray Foam Equipment Guide